WALKING DEAD DAY at Collectors Corner Stores! 10.13.18 (11AM - 9PM)
---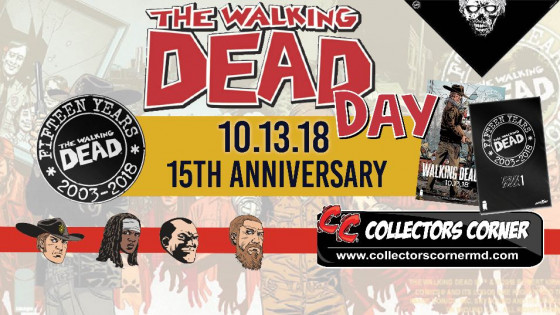 WALKING DEAD DAY at Collectors Corner Stores!
10.13.18
11AM - 9PM
FREE COMICS, Blind Bagged Comics, CC Exclusive Cover, Sales & More...
*FREE COMIC BOOK - The First 50 Customers that Spend $10 or more on Walking Dead merchandise will receive a FREE Collectors Corner Walking Dead 15th Anniversary Exclusive Comic Featuring the CC Logo Prominently on the Cover (Limited to 500 Copies).
You can Purchase Additional Copies of our WALKING DEAD #1 ANNIVERSARY EDITION Custom CC Cover for Cover Price - $2.99 EA
*FREE WALKING DEAD WALKER MASK, WALKING DEAD DAY SPECIAL COMIC (GOVENOR/MICHONNE COVER) & PINBACK BUTTON FREE with Any Walking Dead Item Purchased while Supplies Last
*Limit 1 Free Item Per Each Walking Dead Item Purchased. Limit of Up to 1 Of Each Free Item Per Person.
Limited Edition Variant Covers $3.99 EACH - 15TH Anniversary BLING BAG Walking Dead COMICS - We told you we had more in store for you for WALKING DEAD DAY and today's news is a doozy! Coming to a CC Store Location near you are THE WALKING DEAD 15th Anniversary Blind Bag Variants! These 15 collectible blind bag comics feature milestone issues of THE WALKING DEAD from the first issue to Michonne's first appearance to the death of Glenn and much much more! Each issue will feature new original art by iconic comics artists like by J. Scott Campbell, James Harren, Emma Rios, Declan Shalvey, and Sana Takeda, among other exciting to-be-announced artists. The blind bags will be concealing multiple versions of the artwork as well.
You might find a COLORED version of the art, a SKETCH version, a VIRGIN version (With No Title) or SOMETHING else entirely. A total surprise!
Below you can find a list of which key WALKING DEAD issues will be featured in these variants. These are going to be amazing, so you won't want to miss out!
15 Comics, $3.99 EACH*
WALKING DEAD #1 15TH ANNIVERSARY BLIND BAG DAVID FINCH VARIANT
WALKING DEAD #2 15TH ANNIVERSARY BLIND BAG CHRIS SAMNEE VARIANT
WALKING DEAD #7 15TH ANNIVERSARY BLIND BAG DANIEL WARREN JOHNSON VARIANT
WALKING DEAD #19 15TH ANNIVERSARY BLIND BAG J. SCOTT CAMPBELL VARIANT
WALKING DEAD #27 15TH ANNIVERSARY BLIND BAG DECLAN SHALVEY VARIANT
WALKING DEAD #48 15TH ANNIVERSARY BLIND BAG CHRIS BURNHAM VARIANT
WALKING DEAD #53 15TH ANNIVERSARY BLIND BAG KIM JUNG GI VARIANT
WALKING DEAD #92 15TH ANNIVERSARY BLIND BAG CORY WALKER VARIANT
WALKING DEAD #98 15TH ANNIVERSARY BLIND BAG WES CRAIG VARIANT
WALKING DEAD #100 15TH ANNIVERSARY BLIND BAG JAMES HARREN VARIANT
WALKING DEAD #108 15TH ANNIVERSARY BLIND BAG EMMA RIOS VARIANT
WALKING DEAD #127 15TH ANNIVERSARY BLIND BAG MATTEO SCALERA VARIANT
WALKING DEAD #132 15TH ANNIVERSARY BLIND BAG ASHLEY WOOD VARIANT
WALKING DEAD #167 15TH ANNIVERSARY BLIND BAG SANA TAKEDA VARIANT
WALKING DEAD #171 15TH ANNIVERSARY BLIND BAG JEN BARTEL VARIANT
*LIMIT Up to 3 Of Each of the Covers Offered Per Person.
Plus Enjoy Our...
CC Super Scary Store-wide Weekend Sale!
CC Super Scary Store-wide Weekend Sale!
Friday 10/12 - Sunday 10/14 (3 Days)
(Walking Dead Day Saturday - 10/13) - See Details At Bottom
ALL 3 CC Store Locations :
25% Off All Graphic Novels and Trade Paperbacks Excluding New This Week.
25% Off All Action Figures, Toys & Statues Not dated within 14 Days.
25% Off Board Games, Boxed Games, Role Playing Games Not Dated within 14 Days.
75% Off ALL NEW COMICS (New Comics Wall & Racks) Excluding New This Week, New Last Week, Subscriptions and Special Orders.
25% Off ALL Bagged & Boarded Back Issues Dated Within 14 Days.
*50% Off ALL Bagged & Boarded Back Issues Not Dated Within 14 Days.
If you missed us at BCC and NYCC you can Save Big this weekend again with All New Convention Specials Available Exclusively at CC Parkville - HQ Friday - Sunday during the Sale...
CC Parkville ONLY Convention Savings :
Featuring Deals & Merchandise Never Available in the Stores before now :
BACK ISSUES - 45+ Long Boxes of New Mixed Back Issues -
$1 Each or 15/$10, Fill A Long Box for $100
VARIANTS - 5 Long Boxes of Incentive, Sketcha nd Event Exclusive Variant Covers -
$2 Each or 6/$10
GRAPHIC NOVELS - 25+ Long Boxes of Used & New Graphic Novels -
$5 Each or 5/$20
TOYS - 100's of Action Figures, Funko Pops & Toys - Blue and Purple Sticker Dot Clearance TOYS
$5 Each or 5/$20
+ More Stop by!
All Convention Deals are Located in the back of the Parkville Store by our DVD's and Video Games Sections.
*Excludes Subscription Box, Subscribed Titles and Special Orders, Pre-orders, Items on Hold, Candy, Snacks & Refreshments, All Sealed Trading Card Game Products - Magic the Gathering, YuGiOh, Pokemon, etc, All Collecting Supplies & Accessories for Comics and Gaming, Dice, Playmats, Maps, Sealed Blind Box, Blind Bag Figures, RPG Miniatures - D&D Miniatures, Pathfinder Miniatures, and Reaper Bones Miniatures, Cards Against Humanity, Exploding Kittens, Pinback Buttons, Keychains, Lanyards, Stickers, Gundam Models, Posters & ALL Clearance Items PLUS any Back Issues, New & Vintage/Used Merchandise or Restocked Items Dated on Price Sticker Within 30 days of Arrival in Store.
---