The 9th ANNUAL... NOT AT COMIC CON Sale! 7/18 - 7/21
---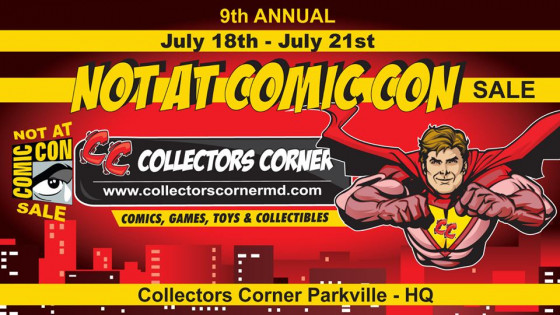 The 9th ANNUAL...
Not At Comic-Con Store-wide Sale!


Don't have the time or money to attend San-Diego Comic-Con?
We got you covered with a Huge Store-wide Sale... At Collectors Corner Parkville - HQ
Sales Outside & Inside the Store!
(Thursday 7/18 - Sunday 7/21)
25% Off Nearly *Everything at CC Parkville - HQ
4 Days Of Incredible Savings!
25% Off ALL GRAPHIC NOVELS, MANGA,

BOARD GAMES & ROLE PLAYING GAMES,

MINIATURES, GUNDAM MODELS, NEW &

VINTAGE ACTION FIGURES & TOYS, BOOKS,

VIDEO GAMES & VIDEO GAME CONSOLES,

DVDs, BLU RAYs, VHS & POSTERS

Not Dated within 30 Days.

BACK ISSUES ON SALE!!!
20% Off ALL Bagged & Boarded Back Issues Dated Within 30 Days.
*50% Off ALL Bagged & Boarded Back Issues Not Dated Within 30 Days.
+ ALL DOLLAR COMICS ON SALE ALL 3 DAYS of the SALE :
ALL $1 Bin Comics Inside the Store, Outside in TENTS (Parkville) and LONG BOXES and in $1 Bins/BOXES at Normally $1 Each or 15 for $10 will be
ONLY 25 Cents Each
or 5 for $1.00
FILL A LONG BOX for $50.


+
Sidewalk Sale at CC Parkville HQ, Saturday 7/21 Only!
SATURDAY (7/21) ONLY SIDEWALK SALE - CC Sidewalk/TENT Sale (CC Parkville Only) With tons of Items 25 Cents Each or 5 for $1. Thousands of Toys, CDs, DVDs, Blu Rays, Books and more....
----------------------------------------------------------------------
*Excludes Subscription Box, Subscribed Titles and Special Orders, Pre-orders, Items on Hold, New Comics, Candy, Snacks & Refreshments, All Sealed Trading Card Game Products - Magic the Gathering, YuGiOh, Pokemon, etc, All Collecting Supplies & Accessories for Comics and Gaming, Dice, Playmats, Maps, Cards Against Humanity, Exploding Kittens, Pinback Buttons, Keychains, Lanyards, Stickers, Gundam Models, Posters & ALL Clearance Items.
---