Support Your Local Comic Shop!
---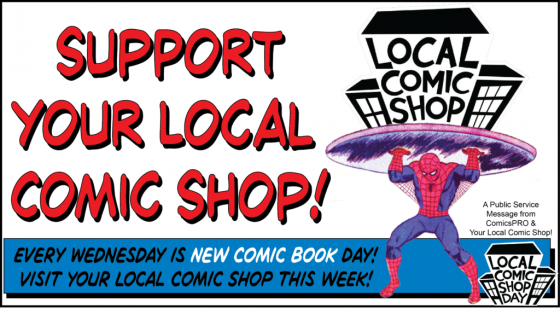 To Everyone that frequents the stores and our Events.
PLEASE TAKE SOME TIME TO READ :
SUPPORT YOUR LOCAL COMIC SHOP!

SUPPORT COLLECTORS CORNER STORES!!!
SUPPORT YOUR LOCAL COMIC SHOP!
THIS IS THE WAY.
Thank You to Everyone that frequents the stores
PLEASE TAKE SOME TIME TO READ :
SUPPORT YOUR LOCAL COMIC SHOP!

SUPPORT COLLECTORS CORNER STORES!!!
WEDNESDAYS ARE IMPORTANT for a LOT OF REASONS!
In 2020 Here are just a few ways you can help us better serve you and help us be here to serve you for many more years to come.
1.
Subscription Box
- OPEN a Subscription Box by Choosing 3 or more titles and having them reserved for you each month at the stores. You can also manage your titles from home or a mobile device on our website. We only ASK that you pick up all of your subscribed/reserved titles every 3 weeks.
2.
Existing Subscribers/Subscription Members
- NOTE for those you that have a Subscription Box at the stores please make an effort to get into the store weekly or bi-weekly and preferably on Wednesdays or at the very least CLEAR your Box completely out by purchasing everything reserved at least 1 time every 3 weeks.
3.
WEDNESDAY VISITS
- WEDNESDAY is NEW COMICS DAY! Not Just NEW Comics Day but a day that is VERY IMPORTANT for comic book stores, Customers Visiting us on NEW COMICS WEDNESDAY help us determine what to order and how many copies of titles to ORDER for the shelves and for Subscribers coming in on NEW COMICS DAY!!!
There are a lot of Great Reasons to Visit on Wednesday like Wednesday Bucks Cards, Double Belly (Digital Rewards), Free Dollar Comics, 1 per $10 Spent on Wednesday too.
Plus you get to converse with other Wednesday visitors and our amazing staff and pick up fun new titles that may or may not sell out that day.
4.
Social Media
- Another way you can Support the Stores, Checking In at each location's, Store's Facebook Pages. Posting your Stack of Comics, Toys, Collectibles or Gaming Purchases to our Social Media pages or Tagging Us in your Posts!
Instagram #collectorscornermd
Twitter @CCMD_ComicsShop
5.
ATTEND EVENTS :
GAMING Events/In Store Events - We host a variety of Sales, Events, Gaming Nights and Meetups, Stop by, invite a Friend, Learn a New Game, have fun maybe even fine a new hobby or make a few new friends.
6.
Community Outreach
- Artists, Comic Creators, Cosplayers, Game Designers, Librarians, Teachers, Community Organizers, TableTop & Role Playing Gamers, School Clubs, Scouts, etc - Reach out to Us we have resources to offer and space available at all 3 stores for Gaming or Meet Ups, Clubs etc. We have always worked with many of those mentioned above in different areas and are always willing to provide support, space or resources, comics etc.
Thank you for Reading, we hope to see you soon!!
---