Start A Comic Book Subscription Box. Membership at CC Stores!
---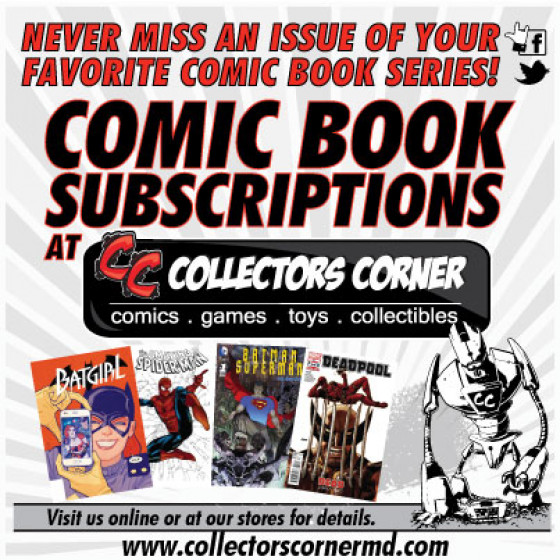 Read More About Subscription Boxes Below -
CC Subscription Membership - Boxes! Have the Comics, Graphic Novels, Magazines & Manga you love reading and collecting held for you each and very week or month.
You can Manage your Subscription Box Membership from Home on our Website Above.
SUBSCRIPTION MEMBERSHIP: ONLINE - Contact Us to Sign up for 3 by or more monthly ongoing comics titles, magazines or manga and never miss an issue again + Save 10% Off any Bagged & Boarded BACK ISSUES, BOARD GAMES, GRAPHIC NOVELS, MANGA & Special Orders. MANAGE Your Subscription from home ONLINE as well by logging into your account at
www.collectorscornermd.com
after you have SIGNED UP by Contacting Us.
If you already Use our Online Subscription Management Tools, then you are already good to go.
Steps for Members that haven;t used it before here -
1. Register with your Email & Box #
2. Retrieve Email and Enter Activation Code on our Site.
3. Sign In and Add Titles or Adjust the Titles You are Subscribed to.
You can Contact Us to Email Invoice you for your Box Contents for Either store Location.
You can Help by Communicating with Us, through Email & Social media Platforms.
If you prefer not to come to the store, you can Call Us and have your Subscription Box, Subscribed Titles Mailed to your home, please do.
If you want to stay up to Date the Latest Info from #CollectorsCornerMD, your Local Comic Shop! We are also here for you as you always have been for us for support. You can stay up to date with us by visiting these sites -
---