Review: Hyperion #1
---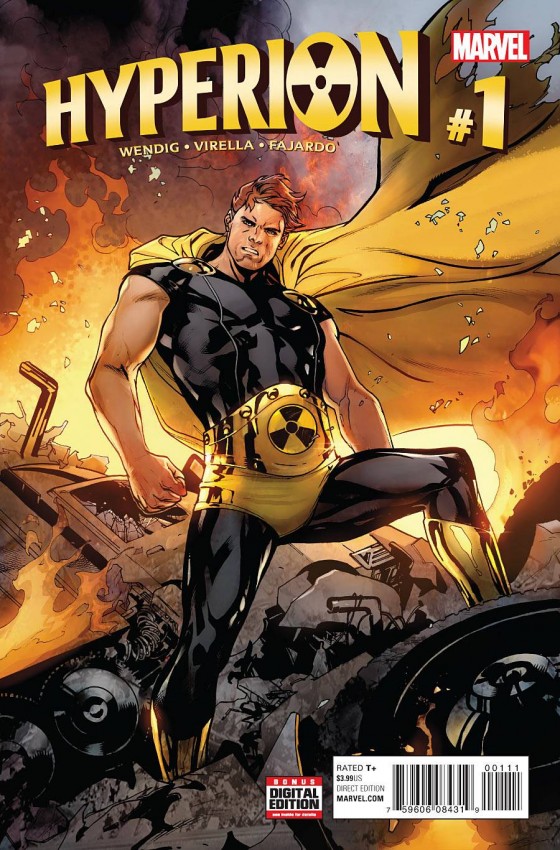 Hyperion #1
Writer: Chuck Wendig
Art: Nik Virella and Romulo Fajardo Jr.
One of my favorite, and lesser known among the mainstream, characters from Marvel is of course Hyperion. Pretty much the Marvel equivalent of Superman, Hyperion has always been a darker and more black and white character that is known for his refusal to compromise. Strong in his convictions and with a power set that can back it up to virtually anybody, Hyperion is most closely associated with the Squadron, be it Sinister or Supreme.
In this introductory issue, we follow a young girl named Doll who is on the run from some super-powered people working at a traveling carnival. Meeting up with a trucker who she suspects is Hyperion, she stays by his side hoping for his protection when her pursuers inevitably catch up. However, there seems to be an increasing probability that her 'saviour' is not who she thinks he is.
The premise should certainly be familiar; a new character meets up with the an established one and hi-jinks ensue. Series like Silver Surfer have done this with success while others require a bit more warming up towards. Here, we get a fairly compelling intro along with some visually striking villains and a strong narrative structure that places the title character not as the lead but as support. Oddly enough, it works. If we as readers to sympathize and back a new character, the focus that this book places on her is very important to get right, and get right quickly. Wendig's writing grabs you from the get go and the cinematic and beautiful art by Virella (Return of the Living Deadpool, 1872) along with colors by Fajardo Jr. give a the events a clean and engaging feel.
While Hyperion may not be as well known or well-loved like many other characters in the Marvel Universe, he is incredibly interesting and I look forward to issue #2.
---