Pokemon Day at Collectors Corner - HQ Thursdays (FREE EVENT) 6:00pm - 8:30pm
---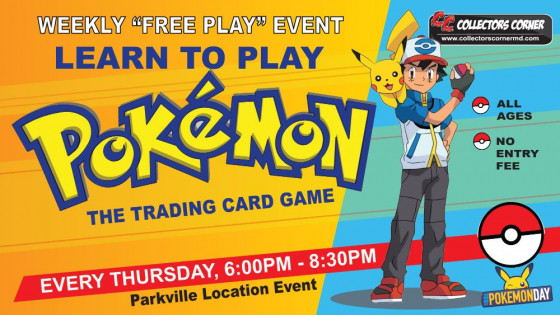 Pokemon Day at Collectors Corner - HQ Thursdays (FREE EVENT)

Join Us at Collectors Corner for our Weekly Pokemon Free Play Day!

Thursdays - (6:00pm - 8:30pm)

This is an All Ages Event No Entry Fee.

All Are Welcome to Attend.

Learn to play!

A Pokemon Professor on hand will be teaching new players with sample Pokemon decks provided by us for the duration of the event or you can bring your own deck with you to the event.

Free Tournament, No Entry Fee. Starts at 6:30.

Our Goal with this weekly event is to have some fun teaching attendees how to play the Pokemon Trading Card Game, hopefully will be the start of hosting regularly scheduled tournaments including draft events in the near future at the stores!

---