Open a Collectors Corner Subscription Box Today!
---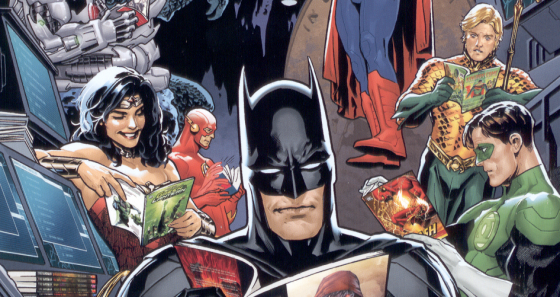 We've all been there....

You weren't able to make it in to your local comic store on New Release Wednesday and now that new #1 you wanted is gone! Now you have to wait for a second printing and you're still going to have to hunt down a first print eventually, because collecting, right? Well this is definitely a problem that Collectors Corner can help you with. By setting up a subscription box at any of our three locations, we can order and pull books specifically for you each week. And if you can't make it in on Wednesday, no worries! Your books will be here waiting for you whenever you can make it in!

Signing up for our subscription box couldn't be easier. Just stop by whichever Collectors Corner location you would like to set up your box at and ask an associate. We'll supply you with a sign-up sheet including a checklist of current titles that are available for sign-up. You can subscribe to single issues, magazines, variant covers, trade paperbacks, or any format of a book you'd like!

There are only two requirements to open a subscription box. First, all subscribers must be signed up for a minimum of three titles. Ongoing titles are best, but signing up for a mini-series is fine so long as a new title takes its place once the mini-series is finished. Maintaining a minimum number of titles is essential in making sure that each of our subscribers is making the most of the service provided. The other requirement is that you stop in once every three to four weeks to pick up your books. And since most people want their comics ASAP, we feel like that's a fair amount of time to expect a visit. If you can't make it in during that window, just communicate with us and we'll do what we can to make sure your service is not interrupted. Reminder calls are made once a subscription box is found to be overdue for a pick-up, but you'll always receive plenty of notice before any action is taken on your box.

You can even access your subscriptions from our website www.collectorscornermd.com. Just sign up with the e-mail you have provided us and you can view and add or delete titles from home! Changes can still be made in person, over the phone, or through e-mail, but we are also providing you with the power to manage your subscriptions personally!
It should also be noted that there are NO additional charges associated with your subscription box! You'll even receive a 10% discount on the cover price of ALL subscribed titles. That discount can even be extended to any other new comics, graphics novels, back issues, or board games in the store. There's other perks to regularly picking up your comic box as well. Every Wednesday, when new books hit the shelves, you're able to earn books from our $1 bin and are eligible for our Wednesday Bucks card! Spend $25 or more on a Wednesday and receive a punch on your Wednesday Bucks card. Spend $50 or more and earn two punches. (Maximum of two punches per Wednesday). Once all 10 spots on the card have been punched, the Wednesday Bucks card is good as $10 store credit to be used on your next visit in to the store! And for every $10 you spend on a Wednesday, you'll be able to grab a FREE book from our $1 bins!

It's THAT simple! Sign up for a Collectors Corner subscription box today and never miss out on a comic again. Staff at all three Collectors Corner locations are available to help you get started whenever you're ready, so what are you waiting for?

Below are some Frequently Asked Questions about policies regarding our subscription box service. If there are any questions still left unanswered, please do not hesitate to ask a member of our staff.



Q: I want multiple copies of a book pulled for me. Is there a subscription option available for that?
A: Let us know specifically which book(s) you would like multiple copies of and we should have no problem accommodating. For instance, if you wanted two copies of each issue of "The Walking Dead", inform us when you sign-up and we can adjust our future orders accordingly.
Q: I want to subscribe to variant covers for a title, but I don't want ALL variants, only a specific kind. If I subscribe to variants, am I obligated to purchase everything placed on hold for me?
A: As with requesting multiple copies, informing our staff of specific items you would prefer is essential. For instance, if you wish to ONLY receive Kevin Eastman covers of "Teenage Mutant Ninja Turtles", just let us know! We'll make a note of that and future orders will adjust to ensure you're only receiving the kind of cover you want. Do you want every single "Transformers" variant possible? Just sign up for variants and let us know that, and we should be able to accommodate! Unfortunately, however, not all variants are able to be ordered all the time. As always, communication with our staff when requesting a specific item is essential.

Q: I'm signed up for single issues, variants, and trade paperbacks for just one book. Does that count towards my minimum of three titles?
A: No. When you subscribe to multiple formats of one book, that only counts as one title. Signing up for single issues, variants, and trade paperbacks for just "Batman" is not enough to open a box. You would need three different titles, not three different formats of just one.

Q: I picked up one of my subscribed titles at another store. Can I place this copy back on the shelf?
A: When you sign up for a specific book, you are essentially asking Collectors Corner to order at least one copy specifically for you. Our subscription numbers are taken into account when ordering and the expectation is that if a person requests a book, they are to pick it up once it's been provided. Should you be unable to purchase a book you have requested, it will only be put back on the shelf under a manager's discretion.

Q: I received a phone call saying that my subscription box is delinquent. What does that mean?
A: If a subscription box is found to be delinquent, that means it has been longer than three to four weeks since any items have been cleared out. Once reminder calls start, the only way to get off the delinquency list is to come in and pick up all items you have requested. If four reminder calls need to be made, boxes are sent to suspension – which means no new titles are placed on hold until previous ones are picked up. Any boxes found to be six weeks delinquent will be canceled and items on hold will be placed back out for sale.

Q: My subscription box was canceled before. Can I sign up again?
A: Absolutely! We understand that sometimes life gets in the way of our hobbies. We understand if you need to temporarily suspend or cancel your subscriptions. You are always welcome to sign up again and have future titles pulled for you. However, should this become a regular occurrence and you are frequently delinquent, signing up multiple times may be left to a manager's discretion. Make sure you are only requesting items that you know you can regularly pick up.

Q: I notice an item in my box that I did not request. Am I obligated to pick it up?
A: You are not responsible for clearing out any items placed in your box without your request. Sometimes, a Collectors Corner employee may pull a book that we feel you may want in the interest of making sure you get the option to purchase it before it sells out. If it turns out you aren't interested, you certainly do not have to purchase it.

Q: An item I requested is missing from my box. Why wasn't it pulled?
A: The first thing to do is let us know exactly what is missing. Nine times out of ten, there is a very simple answer to why something was not placed on hold. Sometimes, our store could be shorted items in an order, or items could come in damaged, in which case this mistake is due to our distributor and replacement copies will make their way to us soon. Other times, human error is a possibility. It's rare, but like all humans, we do sometimes make mistakes. Rest assured that if you miss a book and it becomes unavailable, we will do everything in our power to correct that mistake and hunt you down the book you are missing.
---