MTG Hour of Devastation Pre-release Weekend at Collectors Corner
---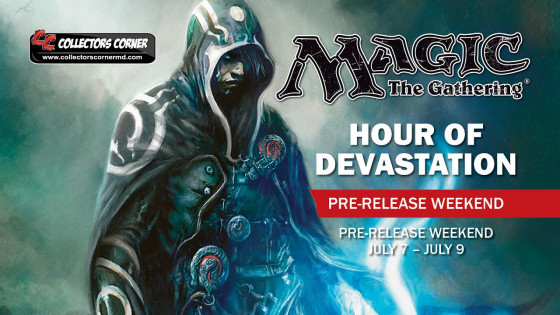 We've got a full weekend of pre-release EVENTS (3) lined up for you and we're excited to bring you the details.

1) Pre-Release #1 - MIDNIGHT - OPEN 11:55 pm on 07/07/17

OPEN 11:55 pm on 07/07/17

*Starts (MIDNIGHT 07/08/17)

First 25 in Line at 11:55 PM to Sign Up will be able to Choose a Free Ultra Pro Deck Box or Solid Color Playmat (Various Colors).

2) Pre-Release #2 - 12pm (Noon) on 07/08/17

3) Pre-Release #3 - 12:30pm on 07/09/17. Pre release #3 is a Two Headed Giant Event

Entry Fee - $25 for each Event and store credit may not be used to enter. There will be PIZZA provided & Refreshments (Soda & Bottled Water) for both events.

*Pre-Register for each EVENT for $24 each up until Thursday 07/06

Save $1 off by Pre-registering & guaranteeing your spot in the event.

3 Day SPECIAL Pre-Registration Price - SIGN up for all 3 days before Thursday before the pre release for $70.

In addition this MIDNIGHT event will be capped at 30 players. Our LAST 5 midnight releases sold out, so if you want to play in this event, please pre-register. The entry fee will cover your seeded pre-release pack to build your deck, land, and of course adding 2 prize packs to the pool per person. As always it will be a 4 round tournament and prizes are based on record with a 2-2 receiving prizes.

A NOTE – the point of a pre-release is to get new cards into as many players' hands as possible. We will not be "playing it out" with a few top players getting all the prizes. That completely invalidates the purpose of the event.

We will also be giving out at least 4 Door Prizes at each event that may include Playmats, and Deck Boxes. Enjoy Collectors Corner's Comfortable Huge Gaming Space, Air conditioning & , Restrooms too.

Store Singles will also be On Sale 20% Off Sticker Prices All Days of Events.

Prizes will be based on attendance.

The format is sealed deck.

Any questions? Direct Inquiries and questions to collectorscornermd@comcast.net or call CC HQ 410-668-3353.

---