Matt's Favorite Comics of 2015
---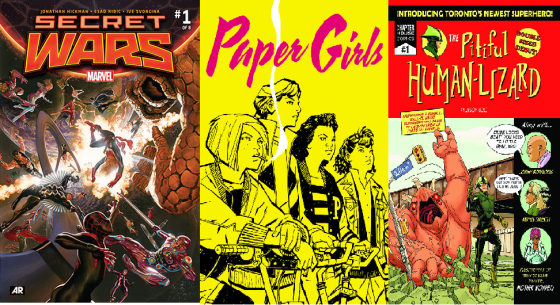 So, obviously 2015 was a huge year for comics. SO many incredible reads this year, it was really difficult to narrow it down to just a few. I've broken this up a few ways. I'll give you my favorite book from Marvel, Image, and DC, as well as a runner-up for each publisher. Then I've got one other random favorite and I'll end with my #1 pick for Absolute Best Most Incredible Favorite Comic of 2015.
MARVEL
Secret Wars - Jonathan Hickman (W), Esad Ribic (A)
Delays and copious amount of mini-series tie-ins aside, this is hands down the most impressive comic book crossover in recent memory. Secret Wars is ambitious as hell and Hickman is telling one of the most engaging and epic stories Marvel has ever had. It's SO big, in fact, that Hickman decided to add an entire extra issue to the story. Between the addition and Esad Ribic's delays on the art, it's certainly easy to complain. But if you look at the big picture, this is truly a tremendous book and one that has me crawling out my skin to read each time I come across a new issue. (Fun fact: We are FINALLY getting the grand finale to Secret Wars on Wednesday, January 13th!)


Marvel Runner-Up: The Vision (Tom King (W), Gabriel Hernandez Walta (A))– Many of the new Marvel books focusing on B, C, or D-List characters are proving to be as good as the big names. "Vision" is one of the best things Marvel has on the shelf right now and reads more like an independent book than one by comic's biggest publisher. (Fun fact: The entire first issue of "Vision" is included with "Spider-Man/Deadpool" #1 for no extra cost!)


IMAGE
Paper Girls - Brian K. Vaughan (W), Cliff Chiang (A)
You're going to see this book on a lot of people's "Best of 2015" lists, and for good reason. Brian K. Vaughan has knocked it out of the park again with his latest on-going story about four newspaper delivery girls in 1988 who get wrapped up an a weird alien doomsday scenario. Channeling his inner Spielberg, Vaughan has created fun characters that are easy to relate to as they navigate their way through a larger-than-life scenario. We're only four issues into this series and there are more questions than answers at this point, but that's a large part of the fun. To quote what I said after reading issue #2, "I have no idea what is going on...and I LOVE IT!"
Image Runner-Up: Kaptara (Chip Zdarsky (W), Kagan Mcleod (A))– I wanted to make sure at least one book on this list was a shout-out to Chip Zdarsky. Kaptara is an incredibly creator-owned sci-fi book that more people need to experience. Hilarious and heartfelt, Zdarsky has proven with this book that he is a creator to keep an eye on. I expect great things from him and can't wait to see what comes next.

DC COMICS
Batman: Europa - Brian Azzarello, Mateo Casali (W), Jim Lee (A)
I've written about this book before, so I'll keep this brief. Fantastic art, stellar writing, and the most interesting Batman team-up I've ever read. We have on issue left in this mini-series and I can't wait to see how it ends. Make sure to pick up what's sure to be an eventually awesome hardcover. This is one of those Batman books that all fans MUST have in their collection!
DC Runner-Up: Superman: American Alien (Max Landis (W), Nick Dragotta (A)) - I've never truly loved Superman stories, but Max Landis' look at Clark Kent's youth hits every major note I expect out of a Superman story I can enjoy. It's emotional, honest, and a very human story about a very alien character, while also acting as a engrossing coming-of-age story. I'm excited to see where this one goes.

RANDOM PICK
Rick & Morty - Zack Gorman (W), CJ Cannon, Ryan Hill (A) (ONI PRESS)
It's no surprise that a comic based on one of my favorite TV shows would be on this list. I've been following Dan Harmon and Justin Roiland's "Rick & Morty" ever since it first premiered on [adult swim] and this comic is the perfect thing to scratch my itch between seasons. Just as twisted and hilarious as the show, these comics are absolutely perfect. And I can't help but buy every single variant because the cover art is just THAT good. Together with their new "Invader Zim" comic, Oni Press is really killing it in the licensed comics department.
Absolute Best Most Incredible Favorite Comic of 2015

The Pitiful Human Lizard - Jason Loo (W/A) (CHAPTERHOUSE COMICS)
I doubt many of you have even heard of this book, but it is absolutely one you don't want to miss. Originally self-published by creator, writer, and artist Jason Loo, this book stars a bumbling wannabe superhero who gets regenerative healing abilities after a botched drug trial. Peter Parker fans are going to want to check this book out as it draws a lot of inspiration from his characterization. It's a hilarious look at the lives of everyday people who also happen to have a desire to fight crime wearing silly outfits. This is a Canadian comic and set primarily in Toronto, which adds to the book's charm. As a life-long visitor of Canada myself, I love having a piece of my home-away-from-home coming into the store every month. Chapterhouse Comics is a brand new publisher based in Canada and Pitiful Human Lizard is quickly becoming a flagship title, along with the fantastic updated Captain Canuck. Be on the lookout for more stuff from this publisher because so far, their track record is incredible.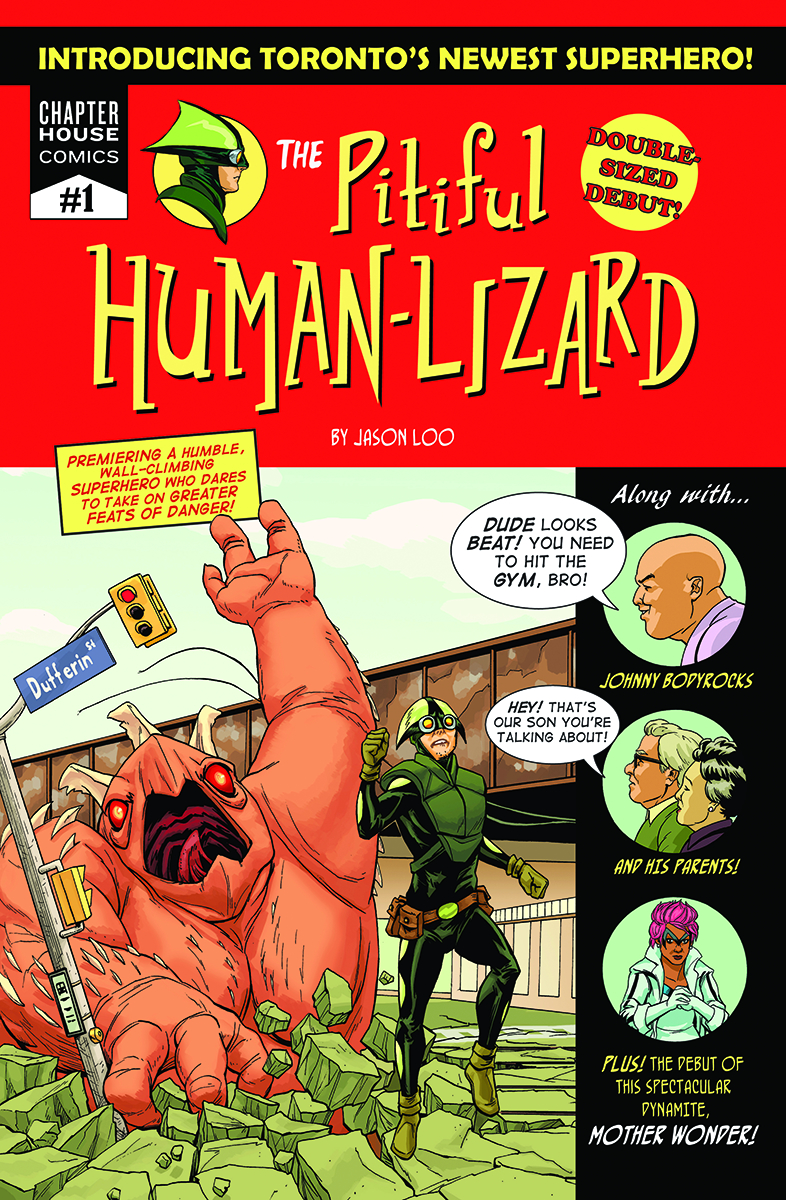 ---