Local Comic Shop Day @ CC Stores. Saturday Nov. 17th! ALL 3 CC Store Locations.
---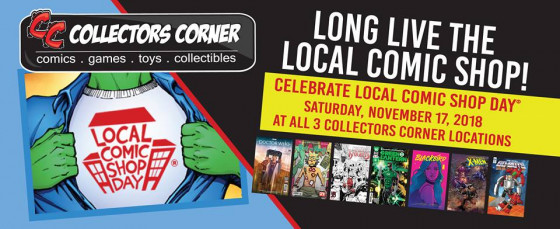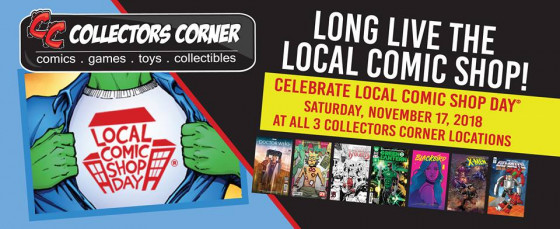 Local Comic Shop Day @ CC Stores.
Saturday Nov. 17th!
ALL 3 CC Store Locations.
It's the Fourth Annual Local Comic Shop Day!
An EVENT where Local Comic Book Stores Like Us receive EXCLUSIVE COMICS, VARIANTS & ITEMS from Publishers, Toy Manufacturers and Distributors that can ONLY be acquired at brick-and-mortar comic shops on this day!


Just like Record Store Day, but for comics!
Also this year we have Extended Sales, Creators, A Canned Food Drive and more....


ALL Items will be placed out for sale in the front of our store locations at 11 AM on Saturday, 11/17.
*Quantities Are Limited.
Store Limit, Up to 1 Of Each Item Offered Per Customer.
All items will be sold on a First Come/ First Served basis.
*Items can not be Pre-ordered or Reserved. Make sure you're here bright and early before any of these items sell out!
To preview the EXCLUSIVE items available on Local Comic Shop Day, visit -
www.localcomicshopday.com
Link to List/Gallery of all Items -
http://localcomicshopday.com/
*10% Off Membership Discount & 50% Off Variant Covers Priced 11.99 and Higher Membership Discount NOT applicable to Local Comic Shop Day Exclusive items.
Get UNIQUE, LIMITED AND EXCLUSIVE comics and graphic novels! See Full List Of LCSD Exclusive Items at Bottom of Event!
Other Cool Stuff and Giveaways Planned for Local Comic Shop Day include Local Creators, Film makers Signing, A Canned Food Drive for the Maryland Food Bank, Free Graphic Novels : A Free Graphic Novel with any LCSD Purchase to the First 25 Customers In Line at Each CC Store Location and more... Check Back!
CANNED FOOD DRIVE (CC Parkville) : At CC Parkville 7911 Harford Rd. SATURDAY 11/17 from 11AM - 3PM
ALL Canned Food Collected will be dropped off at The Maryland Food Bank.
CANNED FOOD DRIVE FREE COMICS (CC Parkville) : Customers can Choose 1 Free Comic Per Can Brought In from Select Boxes while Supplies Last 11AM - 3PM.
FREE GRAPHIC NOVELS (ALL 3 Stores) : Get A Free Graphic Novel with any LCSD Purchase to the First 25 Customers In Line. Limit 1 Free Graphic
SALES (ALL 3 Stores) - LOCAL COMIC SHOP DAY WEEKEND SALES : 25% Off *Everything!
Friday Nov. 16th - Sunday Nov. 18th Enjoy Savings 1 Day Before, During and 1 Day After our LOCAL COMIC SHOP DAY Event!
25% Off *Everything Store-wide!


&


75% Off All Bagged & Boarded Back Issues
Not Dated within 14 Days.


*Excludes : All New Comics Walls/Racks, Subscription Box, Subscribed Titles and Special Orders, Pre-orders, Items on Hold, Candy, Snacks & Refreshments, All Sealed Trading Card Game Products - Magic the Gathering, YuGiOh, Pokemon, etc, All Collecting Supplies & Accessories for Comics and Gaming, Dice, Playmats, Maps, Sealed Blind Box, Blind Bag Figures, RPG Miniatures - D&D Miniatures, Pathfinder Miniatures, and Reaper Bones Miniatures, Cards Against Humanity, Exploding Kittens, Pinback Buttons, Keychains, Lanyards, Stickers, Gundam Models, Posters & ALL Clearance Items. PLUS any Back Issues, New & Vintage/Used Merchandise or Restocked Items Dated on Price Sticker Within 14 days of Arrival in Store.
LOCAL CREATORS SIGNING : K. Patrick Glover Signing, A Wicked Little Town. Megan Morgan Signing , The Altered Wake & Local Film Maker/Director Erik K. Myers Signing Butterfly Kisses.
Erik Kristopher Myers (Writer/Filmmaker)
Erik Kristopher Myers is a writer and filmmaker, whose 2013 movie Roulette has taken home numerous festival trophies and received praise from critics. His latest Horror feature, Butterfly Kisses, brings his interest in folklore, urban legends, and skeptical inquiry to the screen. Released on October 23rd, Butterfly Kisses shot to the top of the
Amazon.com
charts for New Release Fantasy, and was featured on WJZ and Fox 45, as well as on high-profile Horror websites. Myers has written movie reviews for The Dagger, contributes to the "Squaring the Strange" podcast, and sits on the Board of Directors for the Howard County Autism Society.
Megan Morgan (Author) The Altered Wake
"The Altered Wake is Megan Morgan's first novel. She is currently writing The Altered Rise, the second installment in the Sentinel Quartet. She lives with her book-loving children in Baltimore, Maryland."
K. Patrick Glover (Author) A Wicked Little Town
In Dodge City
In 1878
Law And Order Had Two Faces
Wyatt Earp & Doc Holliday
A Wicked Little Town
A Serialized Graphic Novel By
K. Patrick Glover & Keith Perkins

***************************************************************************
LCSD EXCLUSIVES For PURCHASE : Here's the Full list of items -

LCSD 2018 UNCANNY X-MEN #1 DEODATO VAR

LCSD 2018 MARVEL KNIGHTS 20TH #1 (OF 6) VAR

LCSD 2018 CALEXIT VOL 1 HC
What if California refused to be ruled? From the creators of Young Terrorists, Matteo Pizzolo (Godkiller) and Amancay Nahuelpan (Clandestino), comes this tale of resisting oppression, punching Nazis, protecting each other, kicking ass, and demanding liberty for all. In CALEXIT, the citizens of California struggle to seize power back from an autocratic government. Jamil, a 25 year old courier (aka smuggler), and Zora, a 27-year old leader in the Mulholland Resistance, attempt to escape Occupied Los Angeles, where martial law has been in place for the past year -- ever since America's demagogue President signed an executive order to deport all immigrants, and California responded by proclaiming itself a Sanctuary State. Collects issue 1-3.

LCSD 2018 SPACE RIDERS VOL 2 GALAXY OF BRUTALITY HC
An ancient evil is gathering power throughout the cosmos, and it falls upon the legendary SPACE RIDERS to kick its a**! Having disbanded, the crew of CAPITAN PELIGRO, MONO, and YARA must reunite for what may be their final ride! The cult comic that electrified comic readers in the brain RETURNS to blast your fragile human psyche into oblivion!! Collects issues 1-4.

LCSD 2018 MIGHTY MORPHIN POWER RANGERS YEAR 2 BLIND BOX LIMITED TO 500 COPIES.
The Mighty Morphin Power Rangers Year Two Blind Box is the perfect gift for Power Rangers fan. The Blind box contains (1) MMPR Year Two Deluxe HC, (3) random Mighty Morphin Power Rangers Variants, and (1) exclusive Mighty Morphin Power Rangers #30 LCSD Variant by Felipe Massafera, which is only available in this blind box.

LCSD 2018 RICK & MORTY TREASURY ED
MORTY has its own comic book series from Oni Press! Join degenerate superscientist Rick Sanchez as he embarks on all-new adventures with his awkward grandson Morty, his teenage granddaughter Summer, his veterinary surgeon daughter Beth, and his hapless son-in-law Jerry.
This special double-size treasury edition for Local Comic Shop Day includes issues #35 and #40, two hilarious standalone issues written by Kyle Starks (Sexcastle, Kill Them All) and illustrated by series artists Marc Ellerby and Sarah Stern. Come for the jokes, stay for the soul-crushing ennui. Wubba lubba dub dub!

LCSD DOCTOR WHO 13TH DOCTOR #1 SET
Contains all 13 covers + 1 bonus cover. Bonus cover will be a photo cover of the new TARDIS crew by Will Brooks that is not available anywhere else.


LCSD 2018 WILLIAM GIBSON ALIEN 3 #1
This is the official adaptation of the original screenplay for Alien 3, written by William Gibson, the award-winning science fiction author of the cyberpunk cult classic Neuromancer. You'll see familiar characters and places-but not all is the same in this horrifying Cold War thriller. After the deadly events of the film Aliens, the spaceship Sulaco carrying the sleeping bodies of Ripley, Hicks, Newt, and Bishop is intercepted by the Union of Progressive Peoples. What the UPP forces don't expect is another deadly passenger that is about to unleash chaos between two governmental titans intent on developing the ultimate Cold War weapon of mass destruction.


LCSD 2018 X-O MANOWAR KINDT DLX HC SGN LTD 1000 COPIES
Presenting the 2018 Local Comic Shop Day exclusive numbered edition of the deluxe, oversized hardcover collection of Valiant's critically acclaimed, best-selling X-O MANOWAR (2017) series, signed by Eisner Award-nominated writer Matt Kindt!
Deep within the far reaches of space, the dogs of war have found Aric of Dacia. Conscripted into an alien army and forced into combat, Aric must enter an alien battlefield unlike any he's faced before. His only hope for survival is also the source of his greatest rage - the living suit of armor known as X-O Manowar. With it, he will decimate armies, topple empires, and incite interplanetary warfare as he rises from soldier... to general... to emperor! They wanted a weapon. He will give them war!

The X-O MANOWAR by MATT KINDT DELUXE EDITION BOOK 1 HC features the full first year of Matt Kindt's celebrated run in complete chronological order, featuring art by master storytellers Tomás Giorello (BLOODSHOT REBORN), Doug Braithwaite (ARMOR HUNTERS), Clayton Crain (RAI), Ryan Bodenheim (The Dying & The Dead), and more in a series named one of 2017's best by SYFY Wire, ComicBook.com, IGN, and many others! Plus, an assortment of extras and material that has never before been collected in one place! Limited to only 1,000 copies, this LCSD-only, numbered edition is signed by Mr. Kindt and will feature a unique cover treatment comprised of a die-cut dustjacket and gorgeously rendered virgin cover artwork by Lewis LaRosa (BLOODSHOT SALVATION)! Collecting X-O MANOWAR (2017) issues 1-14, material from the Valiant Free Comic Book Day 2017 issue, and "The Future" prelude short story from X-O MANOWAR #50, along with more than 20 pages of rarely seen art and extras for the ultimate X-O Manowar tale!

LCSD 2018 CHERYL BLOSSOM #1
Back in print for the first time, here's 20 pages of Riverdale's other famous red-head, the alluring and always entertaining Cheryl Blossom! Watch out, Archie -- that red-hot seductress, Cheryl Blossom, is back in a big way! By popular demand, we've collected some of the best Cheryl stories of her original 1990s series in this comic extravaganza!

LCSD 2018 BLACKBIRD #1
LIMITED TO 500 COPIES.
This Local Comic Shop Day exclusive features a special foil cover!
An all-new ongoing series from fan-favorite writer SAM HUMPHRIES (Harley Quinn, Nightwing) and red-hot artist JEN BARTEL!
In this neo-noir fantasy, Nina Rodriguez is positive that a secret magic world ruled by ruthless cabals is hiding just beneath the veneer of Los Angeles. The problem: everyone thinks she's crazy. The bigger problem: she's not crazy - she's right. Can she unravel the mystery before the Great Beast catches up with her?


LCSD 2018 GIDEON FALLS HC VOL 01
LIMITED TO 1,000 COPIES.
Picked up for TV by Hivemind after a multi-studio bidding war with long-time producing partners Sean Daniel and Jason Brown, Bad Robot veteran Kathy Lingg, and former Valiant Entertainment CEO & Chief Creative Officer Dinesh Shamdasani.
From the bestselling creative team behind Old Man Logan and Green Arrow comes a character-driven meditation on obsession, mental illness, and faith. The legend of the Black Barn-an otherworldly building alleged to have appeared and reappeared throughout history, bringing death and madness in its wake-ensnares and entwines the lives of two very different men.
Plus, this collection includes a variant cover gallery from some of comics' best artists, including CLIFF CHIANG (PAPER GIRLS), JOCK (WYTCHES), SKOTTIE YOUNG (I HATE FAIRYLAND), and more! Collects GIDEON FALLS #1-6

LCSD 2018 BRAVE AND THE BOLD BATMAN AND WONDER WOMAN HC
This special version of the new THE BRAVE AND THE BOLD: BATMAN AND WONDER WOMAN hardcover features a black and white version of the cover art by Liam Sharp!
When a Celtic god's murder leads to a war between the fairy folk and a possible breach between worlds, Wonder Woman must find the murderer and keep the peace while Batman investigates strange occurrences in Gotham City. As Diana must turn to the World's Greatest Detective for help, the two heroes quickly learn their cases may be connected. Collects the entire six-issue miniseries.

LCSD 2018 GREEN LANTERN #1
LIMITED TO 500 COPIES.
Superstar writer Grant Morrison (Batman, All-Star Superman) returns to DC alongside red-hot artist Liam Sharp (The Brave AND the Bold, Wonder Woman) to launch a new, ongoing series: THE GREEN LANTERN!
In this debut issue, when Earth's space cop, Hal Jordan, encounters an alien hiding in plain sight, it sets off a chain of events that rocks the Green Lantern Corps-and quite possibly the Multiverse at large-to its very core. There's an inter-galactic conspiracy afoot, as well as a traitor in the GL Corps' ranks, so strap in for more mind-bending adventures in this masterpiece in the making.

LCSD 2018 GO-BOTS #1
Go-Bots have changed our way of life. Leader-1 is a self-aware fighter jet on a hostage rescue mission with his partner, Commander Nick Burns. Scooter is the personal transport and best friend to undergrad A.J. Foster. Turbo is Matt Hunter's transforming race car in the hottest sport in America, Go-Bot Racing. Cy-Kill is the champion of the illegal, underground Go-Bot Fighting League. A sophisticated sci-fi epic from the visionary creator that brought you Transformers vs. G.I. JOE. They say they're here to help us, but are they here to replace us? This Local Comic Shop Day edition will have NEW content that will NOT be available in the regular editions of this comic, as well as a new cover by artist Diego Jourdan Pereira.

---