Local Comic Shop Day @ CC Stores! 11/25/20
---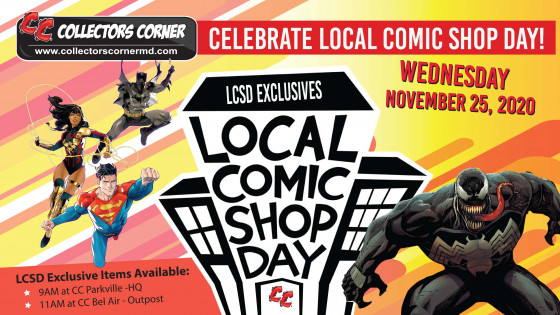 Local Comic Shop Day @ CC Stores.
Wednesday Nov. 25th, Both CC Store Locations.
It's the 6th Annual Local Comic Shop Day!
An EVENT where Local Comic Book Stores Like Us receive EXCLUSIVE LCSD LIMITED EDITION COMIC BOOK VARIANT COVERS and OTHER ITEMS from Publishers, Toy Manufacturers and Distributors that can ONLY be acquired at brick-and-mortar comic shops on this day!
Just like Record Store Day, but for comics!
Also this year we have Extended Sales & more....
ALL Items will be placed out for sale in the front of our store locations at 9AM at CC Parkville -HQ & 11AM at CC Bel Air - Outpost on Wednesday, 11/25.
SPAWN #312 RETAILER VARIANT
SOMETHING IS KILLING CHILDREN #1 FOIL VARIANT
POWER RANGERS #1 FOIL VARIANT
MIGHTY MORPHIN #1 FOIL VARIANT
LUMBERJANES #75 FOIL VARIANT
DUNE HOUSE ATREIDES #2 FOIL VARIANT
INVINCIBLE #1 GOLD FOIL LOGO
WITCHER FADING MEMORIES #1 CVR A
MONSTRESS: TALK STORIES #1 GOLD FOIL
OTHER HISTORY OF THE DC UNIVERSE #1 SILVER METALLIC INK VARIANT
ICE CREAM MAN #20 GREEN EGGS AND HAM VARIANT
X OF SWORDS DESTRUCTION #1 HENRICHON VARIANT
*Quantities Are Limited. Store Limit, 1 Of Each Item Offered Per Customer. All items will be Sold on a First Come/First Served basis.
*Items can not be Pre-Ordered or Reserved, No Exceptions. Make sure you're here bright and early before any of these items sell out!
To preview the EXCLUSIVE items available on Local Comic Shop Day, visit - www.localcomicshopday.com
Link to Gallery of all Items - http://localcomicshopday.com/
*10% Off Membership Discount & 50% Off Variant Covers with Variant Cover Sticker, with Membership Discount NOT applicable to Local Comic Shop Day Exclusive items.
Get UNIQUE, LIMITED AND EXCLUSIVE comics and graphic novels! See Full List Of LCSD Exclusive Items at Bottom of Event!
***************************************************************************
LCSD EXCLUSIVES For PURCHASE : Here's the Full list of items - ALL Items will be Available on a First Come, First Served Basis, No Reservations, No Holds, No Discounts Applied.
---