Joyride #1 Review
---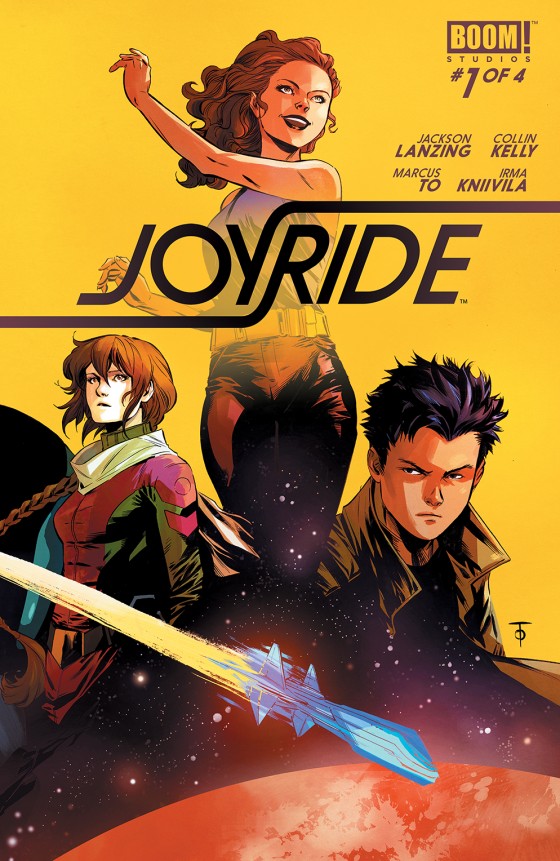 "Joyride" #1

Jackson Lanzing & Collin Kelly (Writers)
Marcus To (Artist)



Have you ever looked up at the stars and dreamed about what it would be like to live amongst them? How would you like to leave Earth behind in an instant, travel the galaxy, and explore star systems that have never been seen by another human being? That's the dream of Uma, hero of Boom's latest sci-fi adventure "Joyride". If you and Uma share something in common, this is absolutely a book you won't want to skip this week.

"Joyride" opens in a world that has been unified by fear of the unknown reaches of space. "One world. One government. One destiny." That's the kind of propaganda that is keeping people content and in line. The Earth is covered in a giant dome and there is a giant gun called The SafeSky hanging down, pointed directly at the Earth. Uma dreams of one day breaking free of her captivity and leaving Earth behind for untold adventures in space. Luckily, her friend Dewydd works on The SafeSky and can get them access off-planet, where an unknown alien Uma has been in contact with will arrive to pick them up. Of course, things go downhill when they're noticed and followed by an officer named Catrin. Originally meaning to bring them back to stand trial, Catrin gets caught up in their alien misadventures and may begin to question her own loyalty to the world government that she's worked for almost her entire life.

Filled with mystery, adventure, and humor, "Joyride" is a must-read for fans of science fiction and well written character-driven stories. Don't let this book pass you by because it really is fantastic. The thrill of adventure is just oozing off of every page and you will quickly fall in love with the characters, even Catrin. Uma is endlessly optimistic and Dewydd is a great companion. There's still some secrets I'll leave uncovered, so do yourself a favor and check out "Joyride" #1.
---