In-Store Convention Kick-Off 2016 on Saturday, March 5.
---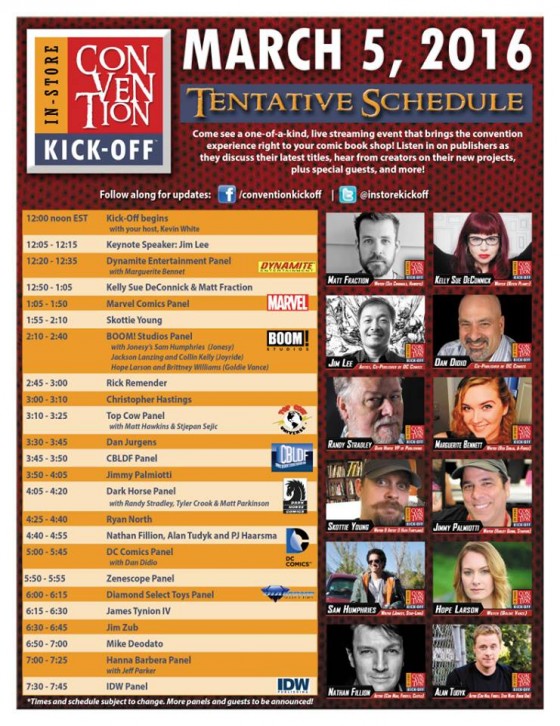 In-Store Convention Kick-Off 2016 on Saturday, March 5.

Once again, witness a One-of-a-Kind Convention Experience from the comfort of your Local Comic Book Store!

Featuring first looks at upcoming projects from the biggest publishers in the industry, hear from your favorite creative teams about upcoming projects, without the hassle a convention brings.

Ask questions to the publishers via social media! Get some great Convention-exclusive items and covers! Only at the 2016 In-Store Convention Kick-Off!

Coming Saturday, March 5th @ 12 PM

+ SALES and DEALS During the EVENT at CC Parkville HQ, Check Back for Details, Updated Soon.

In-Store Convention Kick-Off 2016 will be presented via a live streaming broadcast on Saturday, March 5 from noon to 8:00 p.m. ET. Top creators will be on hand for a day of interviews and major publishers will have panels about their upcoming books and editorial plans. In addition, a number of exclusive items are being created for retailers to sell during the event.

Professional host and all-around comic geek, Geeks of Comedy's Kevin White, will be the master of ceremonies for the entire event.

Featured Guests

Panel Participants

Writer Matt Hawkins and artist Stjepan Sejic, hosting the Top Cow panel;

Writer Marguerite Bennett, hosting the Dynamite Entertainment panel;

Plus, more to come!

A full schedule will be available Soon.

Limited Edition Convention Kick-Off 2016 Items Available at CC Parkville HQ During the Event at 12 Noon while Supplies Last.

3 Exclusive Comics, Covers Only Available at Participating Stores.


JONESY #1 CON KICKOFF 2016

BOOM! STUDIOS

(W) Sam Humphries (A) Caitlin Rose Boyle

What It Is: Jonesy is a self-described "cool dork" who spends her time making zines nobody reads, watching anime, and listening to riot grrrl bands and 1D simultaneously. But she has a secret nobody knows. She has the power to make people fall in love! Anyone. With anything. She's a cupid in plaid. With a Tumblr. There's only one catch-it doesn't work on herself. She's gonna have to find love the old-fashioned way, and in the meantime, figure out how to distract herself from the real emotions she inevitably has to face when her powers go wrong

BATMAN: ARKHAM KNIGHT – BATGIRL AND HARLEY QUINN #1 CON KICKOFF 2016 VARIANT


DC Entertainment

Includes two stories.

In the 20-page Batgirl and Harley Quinn story, Barbara Gordon struggles with her role as Gotham City's newest masked avenger, while Arkham Asylum's Dr. Harleen Quinzel battles her own inner demons as her criminal career as Harley Quinn is just beginning. Written by Tim Seeley, with art by Matthew Clark, Wade von Grawbadger and Sean Parsons, this story appears in print for the first time here and includes appearances by Batman and The Joker.

Plus, this issue now will include a 10-page story featuring the stunning origin of Batgirl in in the Batman: Arkham universe! Written by Tim Seeley, with art by Matthew Clark and Wade von Grawbadger, this story was previously available in 2015 in giveaway comic at conventions and digitally.

POWER MAN AND IRON FIST #1 CON KICKOFF 2016 VARIANT

Marvel Comics

THE ORIGINAL HEROES FOR HIRE, BACK ON THE CLOCK!

We KNOW you've been waiting to see LUKE CAGE and DANNY RAND back together and back to STREET-STOMPING basics! POWER MAN and IRON FIST are tracking a mystery with all the ingredients of a classic Heroes-for-Hire tale. Expect old friends, hired goons, crime lords, weird magic, plenty of power, a flurry of fists and as much bromance as you can handle! It's Power Man and Iron Fist reunited, and writer DAVID WALKER and artist SANFORD GREENE are making it feel so GOOD!

Rated T+


Dark Horse Comics, DC Entertainment, IDW Publishing, Marvel Comics, BOOM! Studios, Dynamite Entertainment, Top Cow Studios and Diamond Select Toys have signed on as sponsors and will have feature presentations during the live event.

---