HARLEY QUINN DAY - 09/23/17 @ ALL 3 CC Locations.
---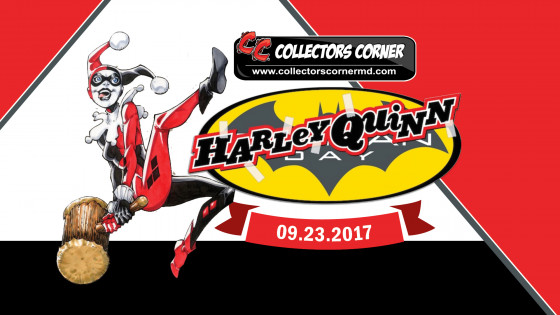 HARLEY QUINN DAY - 09/23/17 @ ALL 3 CC Locations.

FREE COMICS -

3 FREE HARLEY QUINN DAY Exclusive Comic Books Per Person Attending While Supplies Last.

DC Comics' annual celebration for the world's most popular super hero BATMAN is taken over this year by HARLEY QUINN!
FREE BATMAN DAY MASKS with Purchase of any BATMAN or BATMAN Family Graphic Novel, Limit 1 Mask Per Customer.

4 Awesome Paper Masks to Choose From, while Supplies Last.


SALES -

*20% Off ALL BATMAN Family, Harley Quinn & Joker Merchandise.

SAVE An Extra 10% Off All Harley Quinn DAY & Discounts if Wearing a BATMAN or Batman Family Related Cosplay/Costume to the Event.

At all 3 Collectors Corner locations.

*SALE EXCLUSIONS : Excludes Subscription Box, Subscribed Titles and Special Orders, Pre-orders, Items on Hold, New Comics, Candy, Snacks & Refreshments, All Sealed Trading Card Game Products - Magic the Gathering, YuGiOh, Pokemon, etc, All Collecting Supplies & Accessories for Comics and Gaming, Dice, Playmats, Maps, FUNKO POP and Sealed Blind Box, Blind Bag Figures, Video Games and Consoles, RPG Miniatures - D&D Miniatures, Pathfinder Miniatures, and Reaper Bones Miniatures, Cards Against Humanity, Exploding Kittens, ALL Clearance Items PLUS any Back Issues, New & Vintage/Used Merchandise or Restocked Items Dated on Price Sticker Within 30 days of Arrival in Store.

---