GREEN LANTERN #1 Midnight Release 11/7/18 at CC Parkville - HQ
---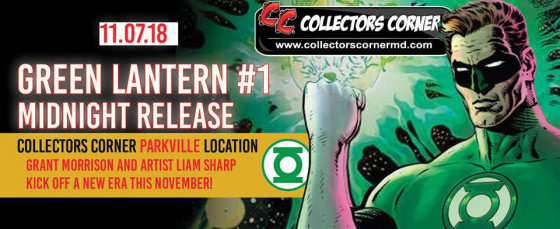 GREEN LANTERN #1 Midnight Release 11/7/18 at CC Parkville - HQ

GREEN LANTERN #1 Celebrate with a Midnight Release Launch Party at Collectors Corner Parkville - HQ

Hal Jordan's space-faring adventures enter a new age in November with The Green Lantern #1, the debut issue of the new series by writer Grant Morrison and artist Liam Sharp!

Green Lantern #1 and other New Comics Titles will be on sale at midnight , CC Parkville - HQ.

Superstar writer Grant Morrison (Batman, All-Star Superman) returns to DC alongside red-hot artist Liam Sharp (The Brave AND the Bold, Wonder Woman) to launch a new, ongoing series: THE GREEN LANTERN!

In this debut issue, when Earth's space cop, Hal Jordan, encounters an alien hiding in plain sight, it sets off a chain of events that rocks the Green Lantern Corps-and quite possibly the Multiverse at large-to its very core. There's an inter-galactic conspiracy afoot, as well as a traitor in the GL Corps' ranks, so strap in for more mind-bending adventures in this masterpiece in the making.

$4.99

Attend Our Midnight Release Launch Party for GREEN LANTERN #1

FREE - With Purchase of GL #1 while Supplies Last, GL #1 Lithograph.

Also Available to Purchase First Come, First Served (5) Per Customer, No Reservations.

Greenn Lantern #1 Midnight Release Variant which features a black and white version of the cover art by Liam Sharp.

On Sale 11/7/18

Midnight 11/7/18

In Store SALES -

40% Off ALL DC COMICS Softcover Graphic Novels Excluding New This Week, Subscribed Titles & Special Orders.

60% Off ALL DC COMICS Hardcover Graphic Novels Excluding New This Week, Subscribed Titles & Special Orders.

*Excludes Subscription Box, Subscribed Titles and Special Orders, Pre-orders, Items on Hold, Candy, Snacks & Refreshments, All Sealed Trading Card Game Products - Magic the Gathering, YuGiOh, Pokemon, etc, All Collecting Supplies & Accessories for Comics and Gaming, Dice, Playmats, Maps, Sealed Blind Box, Blind Bag Figures, Cards Against Humanity, Exploding Kittens, Bears Versus Babies, Pinback Buttons, Keychains, Lanyards, Stickers, Gundam Models, Posters & ALL Clearance Items PLUS any Back Issues, New & Vintage/Used Merchandise or Restocked Items Dated on Price Sticker Within 30 days of Arrival in Store.

---