DC Comics' Doomsday Clock 3 Minutes to Midnight Release Party!
---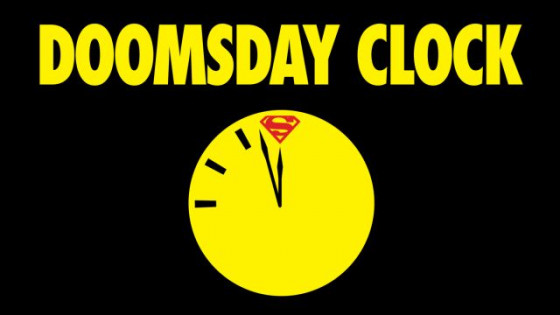 DC Comics' Doomsday Clock #1 3 Minutes to Midnight Release Party!
11:57 PM November 21st
At these (2) Locations Only.
Collectors Corner Parkville - HQ
&
Collectors Corner Bel Air - Outpost
Att Each Participating CC Location -
First 25 In Line will get an Exclusive DC Comics Doomsday Clock Print.
First 100 In Line will get an Exclusive Release DC Comcis Doomsday Clock Watchmen Button.
Exclusive 11:57 Release Variant Cover Available while supplies last, Cover Price
+ 3 Additional Regular Covers Available.
SALES
*25% Off All DC COMICS Graphic Novels, Action Figures, Toys & Statues.
From Wikipedia -
Doomsday Clock is part of the DC Rebirth line of comics and continues the narrative established with 2016's one-shot DC Universe: Rebirth Special #1 and 2017's crossover "The Button". The miniseries will introduce characters from Alan Moore and Dave Gibbons' seminal work Watchmen (1986–1987) into the DC Universe. The series was revealed on May 14, 2017, with a teaser image displaying the Superman logo in the 12 o'clock slot of the clock depicted in Watchmen and the series title in bold typeface used for Watchmen. Doomsday Clock will feature twelve issues releasing over a year-long period beginning on November 22, 2017.
The story will include many DC characters but has particular focus on Superman and Doctor Manhattan. Johns felt like there was interesting story to be told in Rebirth with Doctor Manhattan. He thought there was an interesting dichotomy between Superman—a character who embodies and is compassionate for humanity—and Doctor Manhattan—a character who has detached himself from humanity. This led to over six months of debates amongst the creative team about whether to intersect the Watchmen universe with the DC Universe. He explained that Doomsday Clock was the "most personal and most epic, utterly mind-bending project" that he had worked on in his career.
The time 11:57 has added significance in the context of Watchmen; in the story, the metaphorical "Doomsday Clock" - a Cold War era metric of how close the world sits to an apocalypse scenario - ticks one minute forward to 11:57, pushing Ozymandias to enact his plan to prevent nuclear war.
*SALE EXCLUSIONS : Excludes Subscription Box, Subscribed Titles and Special Orders, Pre-orders, Items on Hold, New Comics, Candy, Snacks & Refreshments, All Sealed Trading Card Game Products - Magic the Gathering, YuGiOh, Pokemon, etc, All Collecting Supplies & Accessories for Comics and Gaming, Dice, Playmats, Maps, FUNKO POP and Sealed Blind Box, Blind Bag Figures, Video Games and Consoles, RPG Miniatures - D&D Miniatures, Pathfinder Miniatures, and Reaper Bones Miniatures, Cards Against Humanity, Exploding Kittens, ALL Clearance Items PLUS any Back Issues, New & Vintage/Used Merchandise or Restocked Items Dated on Price Sticker Within 30 days of Arrival in Store.
---