CC Parkville - HQ Re-Opening Friday May 22nd for In Store Shopping.
---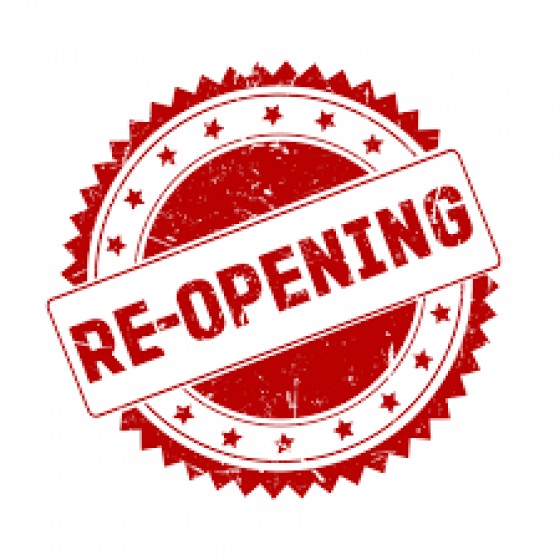 5/21/20
UPDATE -
New C-19 LE T-Shirt, New Hours, New Live Show Hours, CC Parkville - HQ Re-Opening, Welcome Back Re-Opening Store-wide SALE
CC Thursday 5/21.
CC Army! We are Happy to Announce we'll be able to Re-Open CC Parkville - HQ Friday 5/22 at 9AM-8PM for In Store Shopping with Strong Safety Measures in Place (Hand Sanitizing Stations, Masks Required for All, Social Distancing Required, Limited Capacity of 10 Persons Total + CURBSIDE Pick Up Still Available).
WELCOME BACK RE-OPENING SALE
At CC Parkville - HQ Location Only!
3 Days, CC HQ Welcome Back Sale
Friday 5/22 (9AM-8PM)
Saturday 5/23 (11AM-8PM)
Sunday 5/24 (12Noon-6PM)
50% Off Nearly *Everything Store-wide!
Collectors Corner Parkville Location Only.
*EXCLUDES Customer Subscription Boxes (Subscribed Titles in Member Boxes) & Special Orders, NEW Magic the Gathering Ikoria Product, Pokemon Rebel Clash Booster Packs & Boxes & ALL Comics Collecting Supplies, Bags, Boards & Boxes + New This Week Comics + New Limited Edition Store T-Shirts, and ANY New Arrivals/Items Dated on Price Sticker within 14 Days.

MAY 2020 NEW STORE HOURS
NEW May Store Hours After
CC Parkville RE-Opening Sale
Friday 2/22/20 9AM-8PM for

CC Parkville - HQ
NEW HOURS -


OPEN 7 Days a Week.
Monday
12Noon - 7pm
Tuesday
12Noon - 7pm
Wednesday
9am - 8pm
Thursday
11am - 7pm
Friday
11am - 8pm
Saturday
11am - 8pm
Sunday
12Noon - 6pm

NEW May Store Hours After Today for CC Bel Air
Wednesday - Saturday
11am-7pm
Collectors Corner - Bel Air Outpost Location, IN STORE Shopping Resumes with Strong Safety Measures in Place (Hand Sanitizing Stations, Masks Required for All, Social Distancing Required, Limited Capacity, CURBSIDE Pick Up Optional)
NEW STORE HOURS MAY 2020 Wednesday - Saturday 11-7
Thanks, CC
CC Collectro C-19 T-Shirt Available NOW!
AVAILABLE NOW!
Limited Edition Collectro, Collectro-bot TM C-19 Stay Safe. Read Comics. T-Shirt.
24.99
+tx Limited Edition is Ringspun (Soft) Cotton Regular Fit. Design on Front Only. *Second Unlimited Run of Shirts with Color Variation, will be offered at a later date.
Read More About Subscription Boxes Below -
Subscription Boxes!
Please Call and Pay for the Items in your Subscription Box if you are able to.
If you should need to SUSPEND your Subscription Box or CLOSE it let us know by contacting us so we can adjust our orders, if you would like things Mailed to you if we can you can contact us to Mail Your Box to you as needed.
You can Manage your Subscription Box Membership from Home on our Website Above.
SUBSCRIPTION MEMBERSHIP: ONLINE - Contact Us to Sign up for 3 by or more monthly ongoing comics titles, magazines or manga and never miss an issue again + Save 10% Off any Bagged & Boarded BACK ISSUES, BOARD GAMES, GRAPHIC NOVELS, MANGA & Special Orders. MANAGE Your Subscription from home ONLINE as well by logging into your account at
www.collectorscornermd.com
after you have SIGNED UP by Contacting Us.
If you already Use our Online Subscription Management Tools, then you are already good to go.
Steps for Members that haven;t used it before here -
1. Register with your Email & Box #
2. Retrieve Email and Enter Activation Code on our Site.
3. Sign In and Add Titles or Adjust the Titles You are Subscribed to.
You can Contact Us to Email Invoice you for your Box Contents for Either store Location.
If you can continue to SHARE and SUPPORT US as you always have, we would love to hear feedback and suggestions so we can resume normal operations when we all come out on the other side of this.
You can Help by Communicating with Us, through Email & Social media Platforms.
If you prefer not to come to the store, you can Call Us and have your Subscription Box, Subscribed Titles Mailed to your home, please do. If you cannot we understand, don't worry we will Hold them and your Box for you til we are able to resume normal in store shopping hours. We will be here for you!
LIVE SHOWS
NEW TIMES - LIVE SHOWS STARTING
Monday, Tuesday & Thursday
7:00PM - 8:00PM
---