CC New Comics Day - Wednesday 7/1
---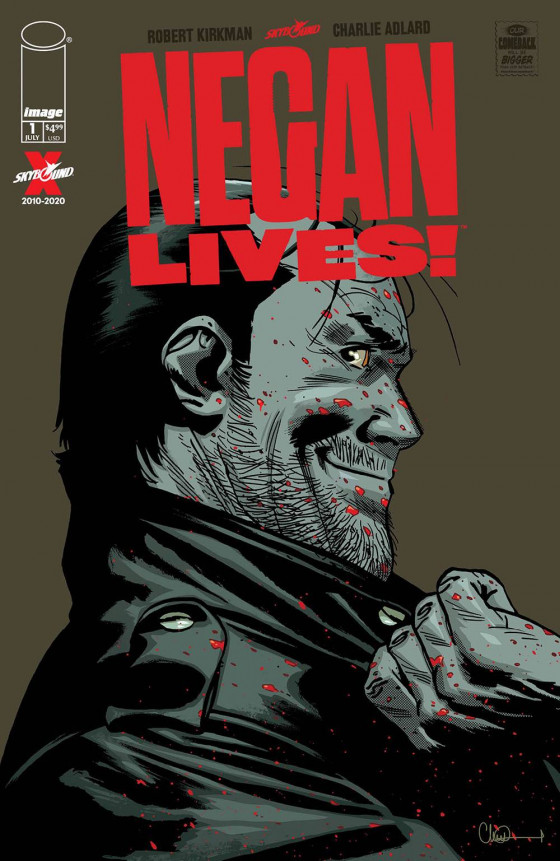 CC Blogger - New Arrivals @ Collectors Corner : Wednesday 7/1/20
Full List -
https://collectorscornermd.blogspot.com/2020/06/cc-blogger-new-arrivals-collectors_29.html
Complete list of items shipping to the stores, some items may be limited in availability. If you see anything you want to purchase on the list and are not a subscription member at Collectors Corner, just contact us and let us know if you want an item held at the stores. email - collectorscornermd@comcast.net
Subscription Membership & Free Membership Card : Collectors Corner's No Obligation (FREE) Membership Card or FREE (In Store) & ONLINE Subscription Membership saves you 10% Off ALL Bagged & Boarded Comic Book Back Issues, Board Games, Graphic Novels, Manga & Special Orders. Plus Never miss a comic again!
Computerized and organized + you can add and cancel titles on your subscription list from home on your own time, or in the store when you pick up your comics at :
Maryland's Coolest Stores! Since 2001.
2 Super Cool & Convenient Locations -
CC PARKVILLE - HEADQUARTERS
7911 Harford Rd
Parkville, MD 21234
&
CC BEL AIR - OUTPOST
17 N. Main St.
Bel Air, MD 21014
www.collectorscornermd.com
PUBLISHER/TITLE/PRICE
ABLAZE
Kidz #4 (Cover A Esdras Cristobal), $3.99
Kidz #4 (Cover B Steve Baker), $3.99
Kidz #4 (Cover C Jocelyn Joret Jaws Parody Variant), $3.99
AFTERSHOCK COMICS
A Walk Through Hell The Complete Collection HC, $39.99
Dark Red #10, $3.99
AHOY COMICS
Billionaire Island #2 (Of 4)(Cover A Steve Pugh), $3.99
Billionaire Island #2 (Of 4)(Cover B Darick Robertson), $3.99
ALBATROSS FUNNYBOOKS
Goon #11 (Cover A Eric Powell), $3.99
Goon #11 (Cover B Matteo Scalera Cardstock Variant), $5.99
AWA STUDIOS
Devil's Highway #1, $3.99
Upshot Now Magazine #2, $5.00
BOOM! STUDIOS
Buffy The Vampire Slayer #15 (Cover A David Lopez), $3.99
Buffy The Vampire Slayer #15 (Cover B Marguerite Sauvage), $3.99
Buffy The Vampire Slayer #15 (Cover C Matthew Taylor), $3.99
Buffy The Vampire Slayer #15 (Cover D Amelia Vidal), AR
Jim Henson's The Dark Crystal Age Of Resistance The Quest For The Dual Glaive HC, $24.99
Jim Henson's The Storyteller Ghosts #3 (Of 4)(Cover A Michael Walsh), $3.99
Jim Henson's The Storyteller Ghosts #3 (Of 4)(Cover B Jorge Monlongo), $3.99
Jim Henson's The Storyteller Ghosts #3 (Of 4)(Cover C Jorge Monlongo), AR
King Of Nowhere #3 (Of 5)(Cover A Tyler Jenkins), $3.99
King Of Nowhere #3 (Of 5)(Cover B Martin Morazzo), $3.99
King Of Nowhere #3 (Of 5)(Cover C Gabriel Hernandez Walta), AR
Ronin Island #12 (Cover A Giannis Milonogiannis), $3.99
Ronin Island #12 (Cover B Ethan Young), $3.99
Steven Universe Volume 7 Our Fearful Trip TP, $14.99
DARK HORSE COMICS
Aliens Vs Predator 30th Anniversary The Original Comic Series HC, $44.99
Berserk Deluxe Edition Volume 5 HC, $49.99
Cuisine Chinoise Tales Of Food And Life HC, $19.99
Disney Moana The Story Of The Movie In Comics HC, $10.99
Hellboy And The B.P.R.D. The Beast Of Vargu And Others TP, $19.99
Kabuki Omnibus Volume 3 TP, $29.99
Raiders TP, $19.99
Stephen McCranie's Space Boy Volume 7 TP, $10.99
Umbrella Academy Deluxe Edition Volume 2 Dallas HC, $79.99
DC COMICS
Absolute Fourth World By Jack Kirby Volume 1 HC, $150.00
Batman Arkham Asylum TP (New Edition), $19.99
Crisis On Infinite Earths Paragons Rising Deluxe Edition HC (July 7 per DC Comics), $17.99
Infinite Crisis Omnibus HC (New Edition)(June 10 per Diamond), $150.00
MAD Magazine #13 (May 26 per DC Comics), $5.99
MAD Magazine #14 (June 16 Per DC Comics), $5.99
Nightwing Year One Deluxe Edition HC, $29.99
Red Hood Outlaw Volume 3 Generation Outlaw HC, $16.99
DYNAMITE ENTERTAINMENT
Boys Dear Becky #2 (Cover A Darick Robertson), $3.99
Boys Dear Becky #2 (Cover B Darick Robertson Line Art Premium Bonus Variant), AR
Boys Dear Becky #2 (Cover C Darick Robertson Virgin Art Premium Bonus Variant), AR
Death To The Army Of Darkness #3 (Cover N Ben Oliver Virgin Variant), AR
Death To The Army Of Darkness #3 (Cover O Sergio Davila Virgin Variant), AR
Death To The Army Of Darkness #3 (Cover P Mirka Andolfo Virgin Variant), AR
James Bond Origin Volume 2 HC, $24.99
Killing Red Sonja #2 (Cover A Christian Ward), $3.99
Killing Red Sonja #2 (Cover B Adam Gorham Todd McFarlane Homage Variant), $3.99
Killing Red Sonja #2 (Cover C Roberto Castro Bonus Variant), AR
Killing Red Sonja #2 (Cover D Roberto Castro Black & White Variant), AR
Killing Red Sonja #2 (Cover E Christian Ward Grayscale Variant), AR
KISS Zombies #5 (Cover M Arthur Suydam Virgin Variant), AR
KISS Zombies #5 (Cover N Stuart Sayger Virgin Variant), AR
Peter Cannon Thunderbolt Oversized HC (Kieron Gillen Signed Edition), $49.99
Red Sonja #16 (Cover A Jae Lee), $3.99
Red Sonja #16 (Cover B Joseph Michael Linsner), $3.99
Red Sonja #16 (Cover C Bob Q), $3.99
Red Sonja #16 (Cover D Marc Laming), $3.99
Red Sonja #16 (Cover E Katy DeCobray Cosplay Variant), $3.99
Red Sonja Age Of Chaos #1 (Cover E Shannon Kingston Cosplay Variant)(Shannon Kingston Signed Edition), AR
Red Sonja Age Of Chaos #4 (Cover U Lucio Parrillo Virgin Variant), AR
Red Sonja Age Of Chaos #4 (Cover V Quah Virgin Variant), AR
Red Sonja Age Of Chaos #4 (Cover W Derrick Chew Virgin Variant), AR
Red Sonja Age Of Chaos #4 (Cover X Ale Garza Virgin Variant), AR
Vampirella #10 (Cover A Lucio Parrillo), $3.99
Vampirella #10 (Cover B Guillem March), $3.99
Vampirella #10 (Cover C Fay Dalton), $3.99
Vampirella #10 (Cover D Ergun Gunduz), $3.99
Vampirella #10 (Cover E Nixie Sweet Cosplay Variant), $3.99
Vengeance Of Vampirella #8 (Cover B Ben Oliver), $3.99
Vengeance Of Vampirella #8 (Cover C Stephen Segovia), $3.99
Vengeance Of Vampirella #8 (Cover D Teena Titan Cosplay Variant), $3.99
Vengeance Of Vampirella #8 (Cover E Roberto Castro Bonus Variant), AR
IDW PUBLISHING
Ed Leffingwell's Little Joe By Harold Gray HC, $65.00
Eve Stranger Volume 1 TP, $17.99
Ghostbusters Year One #4 (Of 4)(Cover A Dan Schoening), $3.99
Ghostbusters Year One #4 (Of 4)(Cover B Dan Schoening), $3.99
Ghostbusters Year One #4 (Of 4)(Cover C Tim Lattie), AR
I Can Sell You A Body #4 (Of 4)(Cover A George Kambadais), $3.99
Johnny Dynamite Explosive Pre-Code Crime Comics The Complete Adventures Of Pete Morisi's Wild Man Of Chicago HC, $29.99
Marvel Action Classics Avengers Starring Iron Man #1 (Cover A Alvin Lee), $4.99
Star Trek Year Five #12 (Cover A Stephen Thompson), $3.99
Star Trek Year Five #12 (Cover B J.J. Lendl), AR
Teenage Mutant Ninja Turtles Urban Legends #24 (Cover A Frank Fosco), $3.99
Teenage Mutant Ninja Turtles Urban Legends #24 (Cover B Andy Kuhn), $3.99
Teenage Mutant Ninja Turtles Urban Legends #24 (Cover C Kevin Eastman), AR
Teenage Mutant Ninja Turtles Urban Legends #24 (Cover D Nikos Koutsis), AR
IMAGE COMICS
All-America Comix # 1 (One Shot), $3.99
Fire Power By Kirkman And Samnee #1 (Promo Edition formerly FCBD 2020 Edition), AR
Fire Power By Kirkman And Samnee Volume 1 Prelude TP, $9.99
Goddamned The Virgin Brides #1 (Of 5), $3.99
Isola Volume 2 TP, $16.99
Marked #6 (Cover A Brian Haberlin & Geirrod Van Dyke), $3.99
Marked #6 (Cover B Brian Haberlin & Geirrod Van Dyke), $3.99
Marked Volume 1 Fresh Ink TP, $16.99
Nailbiter Returns #2, $3.99
Negan Lives #1 (Cover A Charlie Adlard & Dave McCaig), $4.99
Negan Lives #1 (Cover B Charlie Adlard & Dave McCaig Gold Foil Variant), AR
Negan Lives #1 (Cover C Charlie Adlard & Dave McCaig Silver Foil Variant), AR
Olympia #5 (Of 5)(Cover A Alex Diotto & Dee Cunniffe), $5.99
Olympia #5 (Of 5)(Cover B Tyler Bence), $5.99
On The Stump #3 (Cover A Prenzy), $3.99
On The Stump #3 (Cover B Sanford Greene), $3.99
Postal Deliverance Volume 2 TP, $14.99
Pretty Violent #7, $3.99
Protector #4, $3.99
Reaver #9, $3.99
Unpresidented HC, $19.99
MARVEL COMICS
Dawn Of X Volume 6 TP, $17.99
Empyre Preview Magazine, AR
Excalibur By Tini Howard Volume 1 TP, $17.99
Infinity Gauntlet Marvel Select HC, $29.99
Marvel Masterworks The Spectacular Spider-Man Volume 3 HC (Book Market Edition), $75.00
Marvel Masterworks The Spectacular Spider-Man Volume 3 HC (Direct Market Variant Edition Volume 2090), $75.00
Marvel's Black Widow Prelude TP, $17.99
Timely's Greatest The Golden Age Sub-Mariner By Bill Everett The Post-War Years Omnibus HC (Bill Everett Book Market Cover), $125.00
Timely's Greatest The Golden Age Sub-Mariner By Bill Everett The Post-War Years Omnibus HC (Bill Everett Direct Market Cover), $125.00
What If Classic The Complete Collection Volume 4 TP, $39.99
X-Men Milestones Messiah War TP, $24.99
Young Avengers By Gillen And Mckelvie The Complete Collection TP, $34.99
SCOUT COMICS
Mall TP, $19.99
Midnight Sky #5 (Cover A Scott Van Domelen), $3.99
Midnight Sky #5 (Cover B Scott Van Domelen The Thing Homage Variant), $3.99
SOURCE POINT PRESS
Apocalypse Girl #4 (Of 6), $3.99
Touching Evil #6 (Of 7), $3.99
TOKYOPOP
Koi Monogatari Love Stories Volume 1 GN, $12.99
Nightmare Before Christmas Zero's Journey #0 (Epilogue), $3.99
VAULT COMICS
Plot #5 (Cover A Josh Hixson), $3.99
Plot #5 (Cover B Chris Shehan), $3.99
VIZ MEDIA
JoJo's Bizarre Adventure Part 4 Diamond Is Unbreakable Volume 5 HC, $19.99
My Hero Academia Vigilantes Volume 7 GN, $9.99
My Hero Academia Volume 24 GN, $9.99
ZENESCOPE ENTERTAINMENT
Belle Vs The Black Knight #1 (One Shot)(Cover A Martin Coccolo), $5.99
Belle Vs The Black Knight #1 (One Shot)(Cover B Igor Vitorino), $5.99
Belle Vs The Black Knight #1 (One Shot)(Cover C Michael Dooney), $5.99
Belle Vs The Black Knight #1 (One Shot)(Cover D Ron Leary Jr.), $5.99
Monster Planet #5 (Of 5)(Cover A Drew Edward Johnson), $3.99
Monster Planet #5 (Of 5)(Cover B Harvey Tolibao), $3.99
Monster Planet #5 (Of 5)(Cover C Josh Burns), $3.99
Monster Planet #5 (Of 5)(Cover D Fabio Jansen), $3.99
---