CC Memorial Day Weekend Mega Sale & Cookout! (Friday 5/24 - Sunday 5/26)
---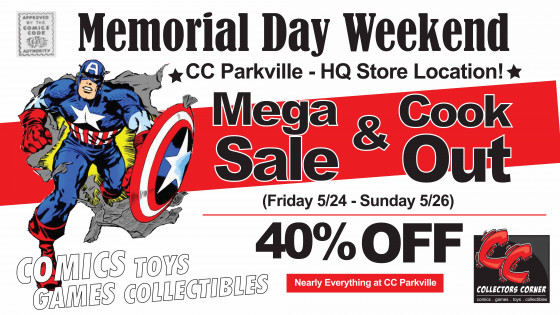 CC Memorial Day Weekend Mega Sale & Cookout!
(Friday 5/24 - Sunday 5/26)
Cookout and Sidewalk/Tent Sale Saturday Only!!!
40% Off Nearly *Everything at CC Parkville - HQ Store Location!
3 Days Of Incredible Savings...
See Sales Below - Plus Added Cookout 12 Noon - 3PM Free Food (CC Parkville) & Added Savings on SATURDAY 5/25 Save an Additional 10% Off Discounts Listed Below + Gift Card Offer, See Below...
(Open Regular Hours Saturday 5/25)
40% Off ALL GRAPHIC NOVELS, MANGA,
BOARD GAMES & ROLE PLAYING GAMES,
MINIATURES, GUNDAM MODELS, NEW &
VINTAGE ACTION FIGURES & TOYS, BOOKS,
VIDEO GAMES & VIDEO GAME CONSOLES,
DVDs, BLU RAYs, VHS & POSTERS
Not Dated within 30 Days.
40% Off Discounts Applicable at CC Parkville Store Location Only.
Sale Event - 3 Days
(Friday 5/24 - Sunday 5/26)
+ ALL DOLLAR COMICS ON SALE :
ALL $1 Bin Comics Inside the Store, Outside in TENTS and LONG BOXES and in $1 Bins/BOXES at Normally $1 Each or 15 for $10 will be
ONLY 50 Cents Each or 3 for $1.00
FILL A LONG BOX for $75.
FILL 2 LONG BOXES for $140.
FILL 3 LONG BOXES for $200.
ALL NEW COLLECTION OF COMICS 70s, 80s, 90s and beyond added to $1 Stock on Friday 5/17 OVER 15,000 NEW $1 Dollar COmics Available this Coming Weekend!!!
Same Deals Apply to Single Issue Comics in the Back Issues Vault!
*Excludes Only Magazine Back Issues, Graphic Novels and Sets in Vault.
+
20% Off ALL Bagged & Boarded Back Issues Dated Within 30 Days.
*40% Off ALL Bagged & Boarded Back Issues Not Dated Within 30 Days.
*75% Off Bagged & Boarded Variant Covers Priced $11.99 or Higher with Variant Cover Sticker Excluding Variant Covers Dated Within 30 Days.
SAVE an
ADDITIONAL 10% Off ALL % DISCOUNTS LISTED ABOVE ON
SATURDAY Only GIFT CARD BONUS CC Parkville Store Location Only - SPECIAL BONUS GIFT CARD OFFER On Saturday 5/25 : Purchase a $100 CC Gift Card for Later at CC Parkville - HQ on Saturday 5/25 and get an additional $50 Bonus Added for a Total of $150. This Offer Valid Only on Saturday 5/25 at CC Parkville Store Location Only. Gift Card in whole or in part may not be Redeemed on Saturday 5/25 - , VALID for Use on or after Tuesday 5/28. No Expiration. Limit 2 MMDWS Bonus Gift Cards Per Customer, While Supplies Last.
SATURDAY ONLY SIDEWALK TENT SALE - CC Sidewalk TENT Sale (CC Parkville Only) With Items $3 Each 4 for $10. Thousands of Action Figures, Toys, CDs, DVDs, Blu Rays, Books and more....
------------------------------------------------------------------------
*Excludes Subscription Box, Subscribed Titles and Special Orders, Pre-orders, Items on Hold, New Comics, Candy, Snacks & Refreshments, All Sealed Trading Card Game Products - Magic the Gathering, YuGiOh, Pokemon, etc, All Collecting Supplies & Accessories for Comics and Gaming, Dice, Playmats, Maps, Cards Against Humanity, Exploding Kittens, Pinback Buttons, Keychains, Lanyards, Stickers, Gundam Models, Posters & ALL Clearance Items.
---