CC MEMORIAL DAY WEEKEND MEGA SALE! (5/26-5/29) 4 Days!
---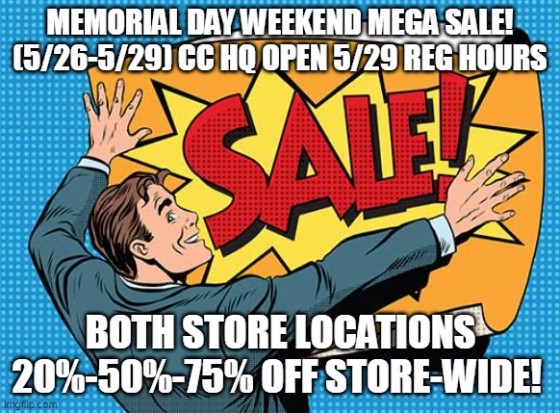 CC Memorial Day Weekend Mega Sale!
(Both Stores, 4 Days : 5/26-5/29
*20%-50%-75% Off Nearly Everything in the Stores!
Store-wide, Both locations.
All Action Figures, All Bagged & Boarded Back Issues All Blind Bag/Blind Box Items, Graphic Novels & Manga, Statues, Models, Posters, Plush Toys, T-Shirts, Toys, Role Playing Games, Board Games, Video Games & Video Game Consoles (Retrons).
ALL Role Playing Games, Terrain & Miniatures
(Excludes Dice & Accessories)
CLEARANCE TOYS, GAMES & COLLECTIBLES
*(Excludes Graphic Novels)
All FUNKO POPS & FUNKO SODAS DATED - 12/31/22 or Earlier on Price Sticker.
All NEW SEALED McFarlane TOYS DC COMICS, SPAWN, DRAGONS Action Figures.
All MARVEL COMICS & DC COMICS HARDCOVER Graphic Novels & Collected Editions.
ALL NEW COMICS Excluding New This Week, New Last Week & Subscribed Titles.
All NEW Bagged and Boarded Variant Covers with Variant Cover Sticker Exluding New This Week & New Last Week.
ALL PRE-OWNED/USED Graphic Novels, Manga and Collected Editions with 50% Off Used/Pre-Owned Sticker.
ALL DISCOUNTS LISTED ABOVE ON MEMORIAL DAY MONDAY 5/29 @ CC Parkville - HQ OPEN REGULAR HOURS12NOON-7PM.
*10% OFF MEMBERSHIP DISCOUNT, ADDITIONAL DISCOUNTS or REWARDS & BELLY REWARDS DO NOT COMBINE OR STACK WITH IN STORE SALES.
*Discounts do NOT Combine, Excludes Subscription Boxes, Subscribed Titles and Special Orders, Pre-orders, Items on Hold, New This Week & Last Week Comics, Candy, Snacks & Refreshments, All Sealed Trading Card Game Products - Magic the Gathering, YuGiOh, Pokemon, etc, All Collecting Supplies & Accessories for Comics and Gaming, Dice. Pinback Buttons, Keychains, Lanyards, Stickers & ALL Clearance Items
One Dollar Each or 15/$10.
ON SALE 50 Cents EACH. 3/$1
Short Box Not Included, Bring or Buy your Own Short Box & Fill It or Buy a New Short Storage Box (6.99) from us here at the Store!
Don't forget to VISIT the Totally FREE ARCADE DOWNSTAIRS at CC Parkville - HQ
1980's Original Cabinets + 1UPS
---