CC HALLOWEEN COMICFEST Saturday October 27th, 3:00 PM to 9:00 PM
---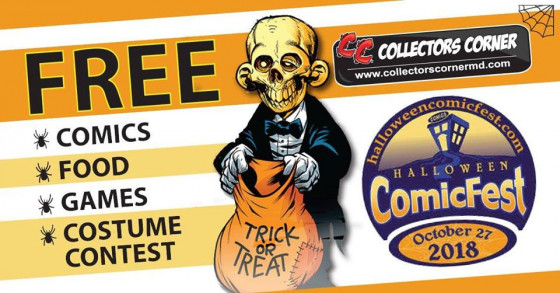 CC HALLOWEEN COMICFEST Saturday October 27th, 3:00 PM to 9:00 PM ALL 3 Collectors Corner Store Locations.
It's Like a Spooky Free Comic Book Day!
FREE FOOD, FREE CANDY, FREE COMICS, GAMES, PRIZES, COSTUME CONTEST, Store-wide SALES & More...


WHERE, WHEN & WHY?
Need an excuse to get more mileage our of your costumes, well the weekend before Halloween on Saturday October 27th, it's Party Time at a CC Store Location near you!
This year we'll be celebrating with Music, Games, Thrills & Chills at All 3 Store Locations, wear any costume you like but we are definitely hoping to see some super scary costumes too!
Free Comics, Free Candy, Free Food, Costume Contests, Kids Activities & Crafts, Games & more ALL on Saturday October 27th.
Free Fun for the whole family...
ALL 3 Locations - Feature these Activities Below :
FREE COMICS : (3PM - 9PM) Halloween ComicFest COMICS - 5 FREE COMICS per person for everyone (while supplies last) DC, Marvel, Image, Action Lab, Archie, Boon, IDW, and more! CC Stores will have ALL Full Sized and Mini Comics Published for this Event Available.
FREE CANDY : TRICK R'TREAT (3PM - 9PM) - What would Halloween be without free candy?!
FREE FOOD & REFRESHMENTS : Served at 6:00PM, Cupcakes, Chips, Snacks, Pizza & Refreshments for all Attending.
20 EYES SCAVENGER HUNT - 7:00 PM Eyeball SCAVENGER HUNT - 20 plastic eyeballs will be hidden at each store. From 7PM - 7:30PM hunt them down and turn them in for fun prizes!
FAMILY HALLOWEEN GAMES & CRAFTS : Coloring Pages, Crafts, Ring Toss and other fun Activities at CC Store Locations throughout the day.
ZOMBIE TARGET PRACTICE (3PM - 9PM) NERF Zombie Target Practice & Shooting Gallery, and more to be announced. Win Prizes for Killing the Zombie, aim for the head. WIN Prize Packs containing Graphic Novels, Games & Other Collectibles too.
COSTUME CONTEST - ALL 3 Store Locations, 8:00 PM.
3 Categories, 9 Prizes Plus 3 1st Place Trophies at Each Location.
1. Adults - Best Overall - 1st Place Wins a $50 CC Gift Card & First Place Trophy, 2nd & 3rd Place Wins a $25 CC Gift Card..
2. Kids (Ages 12 and Under) - Best Overall - 1st Place Wins a $50 CC Gift Card & First Place Trophy, 2nd & 3rd Place Wins a $25 CC Gift Card.
3. Scariest/Best Overall (All Ages) 1st Place Wins a $50 CC Gift Card & First Place Trophy, 2nd & 3rd Place Wins a $25 CC Gift Card.
More Fun Stuff TBA..Check Back Often...
Official Facebook Event Link -
https://www.facebook.com/events/1993100730748855/
FULL LIST OF HCF 2018 COMICS Available at ALL 3 CC Store Locations + Halloween Weekend Sales Details...
This year, Halloween ComicFest (HCF) features a whole new selection of 34 comic book titles for the industry's most anticipated fall event taking place Saturday, October 27, 2018 at CC Stores!
Of the 34 titles available, 22 are Full Size and 12 are Mini Comics. All will be available for free on Saturday, October 27th.
Check out the complete list of available comics below
Halloween ComicFest 2018 Full Size Comics
PRINCELESS: RAVEN: PIRATE PRINCESS
ACTION LAB DANGER DOLL PRESENTS:
AMALGAMA LIVES! ACTION LAB - DANGER ZONE
A WALK THROUGH HELL #1
SPECIAL EDITION AFTERSHOCK COMICS
GENESIS: THE EDGAR RICE BURROUGHS
UNIVERSE AMERICAN MYTHOLOGY
HOWARD LOVECRAFT AND THE KINGDOM
OF MADNESS ARCANA STUDIOS
JUGHEAD: THE HUNGER #1 SPECIAL EDITON ARCHIE COMICS
ASPEN COMICS PRESENTS: ASPEN MASCOTS ASPEN COMICS
LADY MECHANIKA: LA DAMA DE LA MUERTE BENITEZ PRODUCTIONS
HELLBOY AND THE B.P.R.D.: 1953 -
THE PHANTOM HAND & THE KELPIE DARK HORSE COMICS
JOHN CONSTANTINE: THE HELLBLAZER #1 DC ENTERTAINMENT
GOOSEBUMPS: MONSTERS AT MIDNIGHT IDW PUBLISHING
W.I.T.C.H. #1 JY
BATTLE ANGEL ALITA: HOMECOMING KODANSHA COMICS
MS. MARVEL #1 MARVEL COMICS
SUPERIOR SPIDER-MAN #1 MARVEL COMICS
THOR #1 MARVEL COMICS
HILO: THE BOY WHO CRASHED TO EARTH
RANDOM HOUSE BOOKS FOR YOUNG READERS
MONSTROUS: THREE MONSTERS AND A BABY ONE-SHOT SOURCE POINT PRESS
APOSIMZ SAMPLER VERTICAL COMICS
FRANKENSTEIN: JUNJI ITO STORY COLLECTION SAMPLER VIZ MEDIA
SHIBUYA GOLDFISH VOL. 1 YEN PRESS
WINDMAKER: BIRTH OF A KING YOUNEEK STUDIOS
VAMPLETS: THE UNDEAD PET SOCIETY: HELP THE PONY!
ACTION LAB SPOOKHOUSE SAMPLER ALBATROSS FUNNYBOOKS
ROCKY & BULLWINKLE ADVENTURES AMERICAN MYTHOLOGY
ARCHIE'S MADHOUSE MAYHEM ARCHIE COMICS
OVER THE GARDEN WALL
AND INTO THE UNKNOWN BOOM! STUDIOS
NANCY DREW #1 DYNAMITE ENTERTAINMENT
JOHNNY BOO AND THE SPOOKY TREE
IDW PUBLISHING TMNT: RISE OF THE TEENAGE
MUTANT NINJA TURTLES IDW PUBLISHING
GHOST FRIENDS FOREVER PAPERCUTZ
HOLLOW FIELDS SAMPLER SEVEN SEAS ENTERTAINMENT
SPLATOON VIZ MEDIA
Z-Z-Z-ZOMBIE BOY VOL. 1 YEN PRESS
CC Facebook Official Event Page -
HCF Official Event Page -
https://www.halloweencomicfest.com/
CC Halloween Weekend Sale!
(10/26 - 10/28)
*40% Off Nearly Everything in Stores, All Weekend!
*75% Off Bagged & Boarded
Variant Covers Priced 11.99 or
Higher not Dated within 14 Days.


&


25% Off All Bagged & Boarded Back Issues
Dated within 14 Days.
50% Off All Bagged & Boarded Back Issues
Not Dated within 14 Days.


*Excludes New Comics Wall, Subscription Box, Subscribed Titles and Special Orders, Pre-orders, Items on Hold, Candy, Snacks & Refreshments, All Sealed Trading Card Game Products - Magic the Gathering, YuGiOh, Pokemon, etc, All Collecting Supplies & Accessories for Comics and Gaming, Dice, Playmats, Maps, Sealed Blind Box, Blind Bag Figures, RPG Miniatures - D&D Miniatures, Pathfinder Miniatures, and Reaper Bones Miniatures, Cards Against Humanity, Exploding Kittens, Pinback Buttons, Keychains, Lanyards, Stickers, Gundam Models, Posters & ALL Clearance Items. PLUS any Back Issues, New & Vintage/Used Merchandise or Restocked Items Dated on Price Sticker Within 14 days of Arrival in Store.

If you missed us at BCC and NYCC you can Save Big this weekend again with All New Convention Specials Available Exclusively at CC Parkville - HQ Friday - Sunday during the Sale...
CC Parkville ONLY Convention Savings :
Featuring Deals & Merchandise Never Available in the Stores before now :
BACK ISSUES - 45+ Long Boxes of New Mixed Back Issues -
$1 Each or 15/$10,
Fill A Long Box for $75
3/$200
Fill A Short Box for $50
3/$100
VARIANTS - 5 Long Boxes of Incentive, Sketch and Event Exclusive Variant Covers -
$2 Each or 6/$10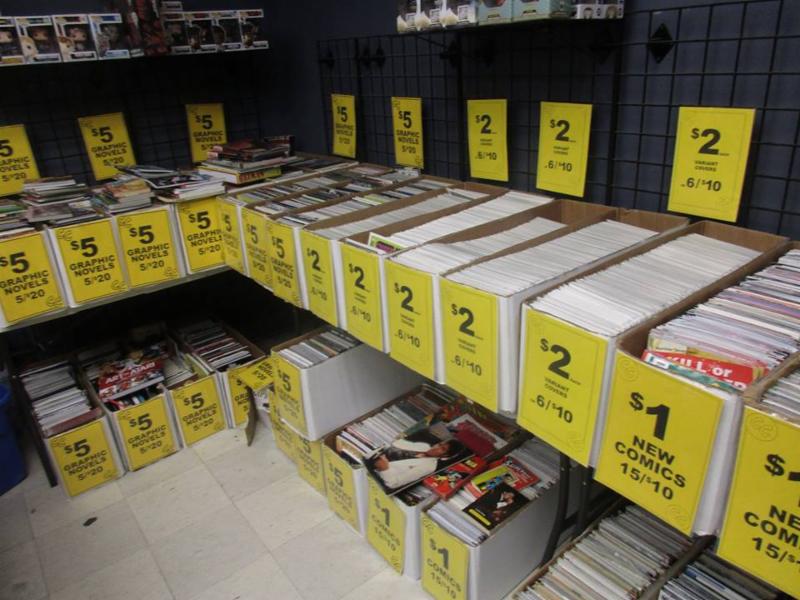 GRAPHIC NOVELS - 25+ Long Boxes of Used & New Graphic Novels -
$5 Each or 5/$20
---