CC Free Role Playing Games Day at All 3 Locations Saturday - (6/15) Saturday, June 15th
---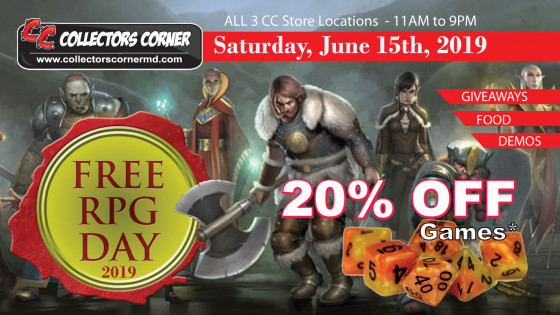 CC Free Role Playing Games Day at All 3 Locations
Saturday - (6/15)


Saturday, June 15th, 2019 at ALL 3 CC Store Locations.
11AM - 9PM
Stop in and Choose 1 FREE 2019 FREE RPG DAY item per person just for stopping in, even if you aren't participating in a demo or game.

If you PLAY in or GM in any game being run during the even at the stores, you can choose 3 Total FREE 2018 FREE RPG DAY Items available.

That's right up to 3 Items per person for attending and participating.

Free PIZZA, Snacks, Bottled Water for those playing games at the stores from
12:00 PM - 4:00 PM.

*20% Off All Board Games, Boxed Games, Role Playing Games & Role Playing Game Miniatures Painted & Unpainted During our CC Fathers Day Weekend Store-wide Sale running concurrent with Free RPG Day!

Jump into a game, even if you have never played a Role Playing game before with RPG sessions including multiple tables of D&D 5.0, Pathfinder, and other Role Playing games TBA

If you are interested in joining in on a session or running a session of any game on this day during the event hours contact us at collectorscornermd@comcast.net or reply here in this Event Listing.

Bring friends and if you know Role Playing Gamers, please SHARE this event!

There will also be Board Game and Card Game Demos TBA
http://www.FreeRPGDay.com/
Established 2007.
---