CC Fourth of July Bat-wedding Celebration & Sale! Wednesday 7/4
---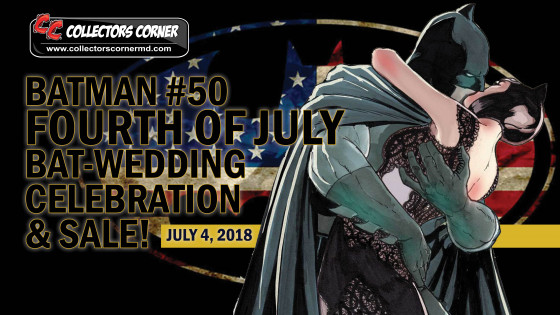 CC Fourth of July Bat-wedding Celebration & Sale! Wednesday 7/4
ALL 3 Store Locations.
---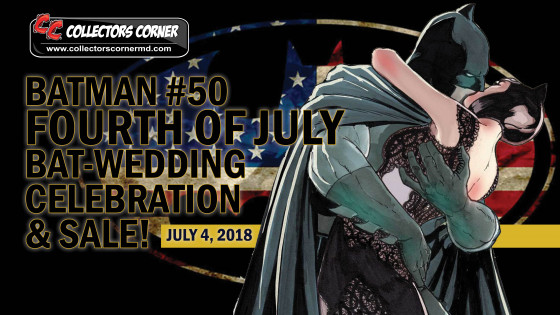 CC Fourth of July Bat-wedding & Sale!
New Comics Wednesday July 4th. A Super Wednesday with some of the most anticipated New Comics Titles in years!
Join Us on Independence Day as weCelebrate the Batman / Catwoman Wedding Issue, BATMAN #50 + other Amazing and timely Releases like Captain America #1 by Ta-Nehisi Coates with Art by Leinil Francis Yu and Cosmic Ghost Rider #1 plus Death of the Inhumans #1 both written by Donny Cates and a plethora of other titles too
FREE CAKE & PUNCH - BATMAN/CATWOMAN Wedding Cake at All 3 Stores!
Wedding Cake Cutting at Noon (All 3 Stores)
Meet Batman, Catwoman, Harley Quinn and Joker Cosplayers, Free Photos 12 Noon - 3PM (CC Parkville Store Location Only)
SAVE 40% Off Nearly *Everything ALL 3 Stores
This Sale is a Prelude to our Weekend Sale running 7/6 - 7/8
See Sales Below -
(Open Regular Hours Wednesday 7/4)
40% Off All Board Games, Boxed Games, Role Playing Games & Role Playing Game Miniatures Painted & Unpainted Not Dated within 30 Days.
40% Off ALL Graphic Novels
Excluding New This Week.
50% Off ALL DC & MARVEL COMICS HARDCOVER Graphic Novels Priced 24.99 or more Excluding New This Week.
50% Off ALL NEW COMICS Excluding New This Week, New Last Week Subscriptions and Special Orders.
25% Off All Blu Rays, DVDs & Video Games.
40% Off ALL ACTION FIGURES, TOYS, STATUES & FUNKO DORBZ, POPS, VYNIL & Sealed BLIND BOX Figures Not Dated within 30 Days.
25% Off ALL Bagged & Boarded Back Issues Dated Within 30 Days.
*75% Off ALL Bagged & Boarded Back Issues Not Dated Within 30 Days.
*75% Off Bagged & Boarded Variant Covers Priced $11.99 or Higher with Variant Cover Sticker Excluding Variant Covers Dated Within 30 Days.
Plus
ALL $1 Comics only 50 Cents EA or 3/$1.
+ Additional (Parkville Only) Savings Below -
$2 Back Issues On Sale for
$1 Each 15/$10
Fill A Long Box for $75 or Fill 3 Long Boxes for $200.
*Excludes Subscription Box, Subscribed Titles and Special Orders, Pre-orders, Items on Hold, Candy, Snacks & Refreshments, All Sealed Trading Card Game Products - Magic the Gathering, YuGiOh, Pokemon, etc, All Collecting Supplies & Accessories for Comics and Gaming, Dice, Playmats, Maps, Sealed Blind Box, Blind Bag Figures, RPG Miniatures - D&D Miniatures, Pathfinder Miniatures, and Reaper Bones Miniatures, Cards Against Humanity, Exploding Kittens, Pinback Buttons, Keychains, Lanyards, Stickers, Gundam Models, Posters & ALL Clearance Items PLUS any Back Issues, New & Vintage/Used Merchandise or Restocked Items Dated on Price Sticker Within 30 days of Arrival in Store.


---