CC Fathers Day Weekend Mega Sale! At ALL 3 Store Locations. (Friday 6/14 - Sunday 6/16)
---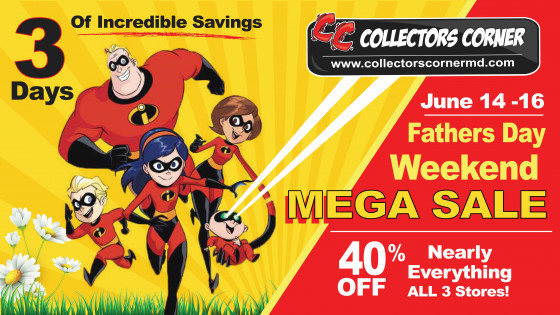 CC Fathers Day Weekend Mega Sale!
At ALL 3 Store Locations.
(Friday 6/14 - Sunday 6/16)
Sidewalk Sale at CC Parkville HQ,
Saturday 6/15 Only!!!
3 Days Of Incredible Savings...
40% Off ALL GRAPHIC NOVELS, MANGA,
BOARD GAMES & ROLE PLAYING GAMES,
MINIATURES, GUNDAM MODELS, NEW &
VINTAGE ACTION FIGURES & TOYS, BOOKS,
VIDEO GAMES & VIDEO GAME CONSOLES,
DVDs, BLU RAYs, VHS & POSTERS
Not Dated within 30 Days.
20% Off ALL Bagged & Boarded Back Issues Dated Within 30 Days.
*50% Off ALL Bagged & Boarded Back Issues Not Dated Within 30 Days.
*75% Off Bagged & Boarded Variant Covers Priced $11.99 or Higher with Variant Cover Sticker Excluding Variant Covers Dated Within 30 Days.
(Friday 6/14 - Sunday Fathers Day 6/16)

40% Off Nearly *Everything ALL 3 Stores!
3 Days Of Incredible Savings!

See Sales Below - Plus Added Savings on FATHERS DAY

(Open Regular Hours)
Parkville 12 - 6, Baltimore 12 -5, Bel Air 11-4
EXTRA 10% Off ALL DISCOUNTS ABOVE ON FATHERS DAY!
SAVE an ADDITIONAL 10% Off ALL DISCOUNTS LISTED ABOVE
FATHERS DAY GIFT CARD BONUS - SPECIAL BONUS GIFT CARD OFFER for FATHERS DAY : Purchase a $100 CC Gift Card for DAD at any CC store Location on Fathers Day and get an additional $50 Bonus Added for a Total of $150. This Offer Valid Only on Fathers Day Sunday 6/16. Gift Card may not be Redeemed on Fathers Day, VALID for Use on or after Tuesday 6/18. No Expiration.
+ ALL DOLLAR COMICS ON SALE ALL 3 DAYS of the SALE :
ALL $1 Bin Comics Inside the Store, Outside in TENTS (Parkville) and LONG BOXES and in $1 Bins/BOXES at Normally $1 Each or 15 for $10 will be
ONLY 50 Cents Each or 3 for $1.00
FILL 2 LONG BOXES for $140.
FILL 3 LONG BOXES for $200.
NEW $1 Dollar Comics Available this Coming Weekend!!!
*Excludes Only Magazine Back Issues, Graphic Novels and Sets in Vault.
SATURDAY (6/15) ONLY SIDEWALK TENT SALE - CC Sidewalk TENT Sale (CC Parkville Only) With Items $1 Each 15 for $10. Thousands of Action Figures, Toys, CDs, DVDs, Blu Rays, Books and more....
Over 5,000 Science Fiction, Horror and Books about Comics will be available for the First time During this Sidewalk Sale on Saturday for $1 Each or 15 for $10. All in Like New Conditions.
---------------------------------------------------------------------
*Excludes Subscription Box, Subscribed Titles and Special Orders, Pre-orders, Items on Hold, New Comics, Candy, Snacks & Refreshments, All Sealed Trading Card Game Products - Magic the Gathering, YuGiOh, Pokemon, etc, All Collecting Supplies & Accessories for Comics and Gaming, Dice, Playmats, Maps, Cards Against Humanity, Exploding Kittens, Pinback Buttons, Keychains, Lanyards, Stickers, Gundam Models, Posters & ALL Clearance Items.
CC Free Role Playing Games Day at All 3 Locations
Saturday - (6/15)


Saturday, June 15th, 2019 at ALL 3 CC Store Locations.
11AM - 9PM
Stop in and Choose 1 FREE 2019 FREE RPG DAY item per person just for stopping in, even if you aren't participating in a demo or game.

If you PLAY in or GM in any game being run during the even at the stores, you can choose 3 Total FREE 2018 FREE RPG DAY Items available.

That's right up to 3 Items per person for attending and participating.

Free PIZZA, Snacks, Bottled Water for those playing games at the stores from
12:00 PM - 4:00 PM.
*20% Off All Board Games, Boxed Games, Role Playing Games & Role Playing Game Miniatures Painted & Unpainted During our CC Fathers Day Weekend Store-wide Sale running concurrent with Free RPG Day!
Jump into a game, even if you have never played a Role Playing game before with RPG sessions including multiple tables of D&D 5.0, Pathfinder, and other Role Playing games TBA
If you are interested in joining in on a session or running a session of any game on this day during the event hours contact us at
collectorscornermd@comcast.net
or reply here in this Event Listing.
Bring friends and if you know Role Playing Gamers, please SHARE this event!
There will also be Board Game and Card Game Demos TBA
http://www.FreeRPGDay.com/
Established 2007.
---