CC Customer Appreciation Sale & Membership Drive! (11/9 - 11/11)
---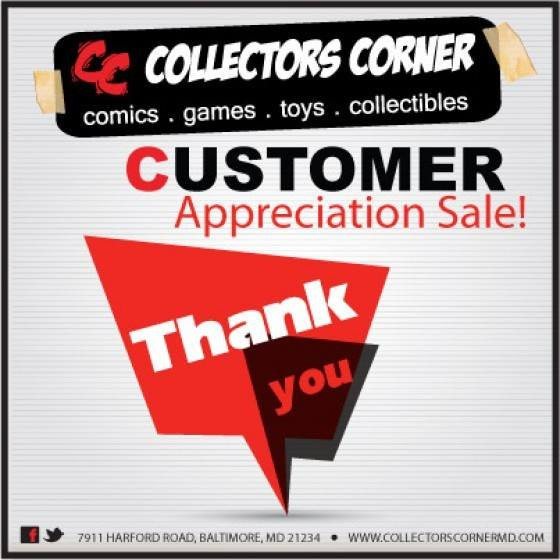 CC Customer Appreciation Sale & Membership Drive! (11/9 - 11/11)

All Weekend, Friday 11/9 - Sunday 11/11

SAVE *25% Off Nearly Everything in Stores!

&

25% Off All Bagged & Boarded Back Issues Dated within 14 Days.

75% Off All Bagged & Boarded Back Issues Not Dated within 14 Days.

Subscription Members - Save An Additional 10% Off Discounts Above - "Subscription Members Save An Additional 10% Off Discounts During this 3 Day Sale. Subscription Box must be in good standing, No Holds, Cleared out completely to Save Additional 10% Savings on Listed Discounts during the Sale."


Must Let Sales Associate Know at Checkout if you are a Subscription Member, if you are not one Start a Subscription Box Today and take advantage of the Extra 10% Off Savings.

*Excludes Subscription Box, Subscribed Titles and Special Orders, Pre-orders, Items on Hold, Candy, Snacks & Refreshments, All Sealed Trading Card Game Products - Magic the Gathering, YuGiOh, Pokemon, etc, All Collecting Supplies & Accessories for Comics and Gaming, Dice, Playmats, Maps, Sealed Blind Box, Blind Bag Figures, RPG Miniatures - D&D Miniatures, Pathfinder Miniatures, and Reaper Bones Miniatures, Cards Against Humanity, Exploding Kittens, New Comics Wall, Pinback Buttons, Keychains, Lanyards, Stickers, Gundam Models, Posters & ALL Clearance Items. PLUS any Back Issues, New & Vintage/Used Merchandise or Restocked Items Dated on Price Sticker Within 14 days of Arrival in Store.

---