Batman Day 9/21 at CC Stores! Free Comics and more...
---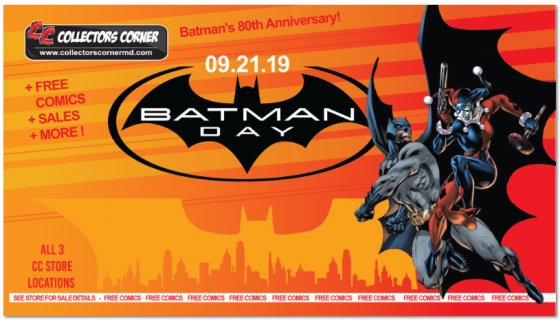 SALES & EVENTS :
BATMAN DAY 9/21 with FREE COMICS
COSPLAYERS & CAKE
40% Off Store-wide WEEKEND SALE too with
BONUS GIFT CARDS and more...
Batman Day returns to CC Stores on September 21st for the Annual Celebration of the Dark Knight! Now in its Sixth year, the fan-favorite holiday takes place on September 21st and includes Batman-themed events, Free Comics, Sale and more...Plus, this year is even more special since it's Batman's 80th Anniversary!
As part of Batman Day festivities, fans who visit CC Stores can get copies of the comics below for free! No Purchase Required. 1 Of the 2 Free Comics Per Person.
Batman: Nightwalker : The Graphic Novel Batman Day 2019 Special Edition #1 features an excerpt from the upcoming DC graphic novel for young adults based on the New York Times bestselling novel by Marie Lu, adapted by writer Stuart Moore with art and cover by Chris Wildgoose.
The Batman Who Laughs Batman Day 2019 Special Edition #1 reprints the 2017 one-shot spinning out of Dark Nights: Metal, written by James Tynion IV with art by Riley Rossmo and a cover by Jason Fabok. This reprint features a special card stock over-cover with a mask of the Batman Who Laughs shown below!
CAKE CUTTING : BATMAN DAY CAKE Cutting Saturday at NOON,
Free Punch and Cake!
COSPLAYERS - At CC Parkville - HQ, Batman's Allies and Rogues Gallery Mingling with Guests, Harley Quinn, Batgirl, Joker and more...
Transform into Batman with our new Snapchat lens! Set against Gotham City's skyline, users will experience the Bat-Signal, the Batarang, and much more! Do you have what it takes to be Batman? Find out when you unlock the Batman lens with this snapcode #LongLiveTheBat

CC Fall Into Savings Weekend Sale!
Friday 9/19 - Sunday 9/22
40% Off Nearly *Everything ALL 3 Stores -
40% Off
ALL FUNKO POPs,
GRAPHIC NOVELS, MANGA,
BOARD GAMES & GUNDAM MODELS, NEW &

VINTAGE ACTION FIGURES & TOYS, BOOKS,

VIDEO GAMES & VIDEO GAME CONSOLES,

DVDs, BLU RAYs, VHS & POSTERS Not Dated within 30 Days.

BONUS
SATURDAY Only GIFT CARD BONUS (ALL 3 Stores) - SPECIAL BONUS GIFT CARD OFFER On Saturday 9.21 : Purchase a $100 CC Gift Card for Later at any CC store Location on Saturday 9.21 and get an additional $50 Bonus Added for a Total of $150. This Offer Valid Only on Saturday 9.21. Gift Card in whole or in part may not be Redeemed on Saturday 9.21 - Monday 9.23, VALID for Use on or after Tuesday 9.24, No Expiration. Limit Up to 4 FISW Bonus Gift Cards Per Customer, While Supplies Last.
BACK ISSUES ON SALE :
20% Off ALL Bagged & Boarded Back Issues Dated Within 30 Days.
*50% Off ALL Bagged & Boarded Back Issues Not Dated Within 30 Days.
-----------------------------------------------------------------------
ALL PREVIOUSLY

$2

or 6/$10
by DVD's
at (PARKVILLE) On Sale for -
Fill 3 Long Boxes for $250
ALL USED Softcover Graphic Novels will be
ALL USED Hardcover Graphic Novels will be
*Excludes Subscription Box, Subscribed Titles and Special Orders, Pre-orders, Items on Hold, New Comics, Candy, Snacks & Refreshments, All Sealed Trading Card Game Products - Magic the Gathering, YuGiOh, Pokemon, etc, All Collecting Supplies & Accessories for Comics and Gaming, Dice, Playmats, Maps, Cards Against Humanity, Exploding Kittens, Pinback Buttons, Keychains, Lanyards, Stickers, Gundam Models, Posters & ALL Clearance Items.

ALL 3 STORE LOCATIONS...

ALL $1 Bin Comics On Sale... (Only in Black $1 Comic Book Bins)
ALL $1 Black Bin COMICS On Sale for
Fill 3 Long Boxes for $100.
---