BATMAN #50 Midnight Release! (Batman / Catwoman Wedding Issue)
---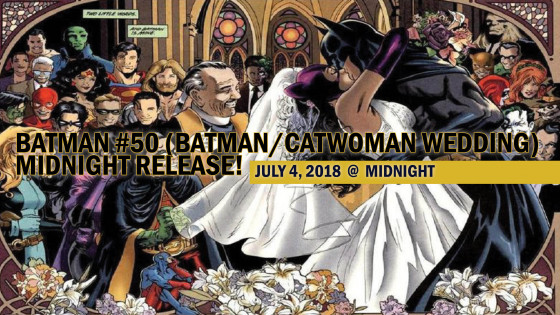 BATMAN #50 Midnight Release!
At CC Parkville - HQ
(Batman / Catwoman Wedding )
---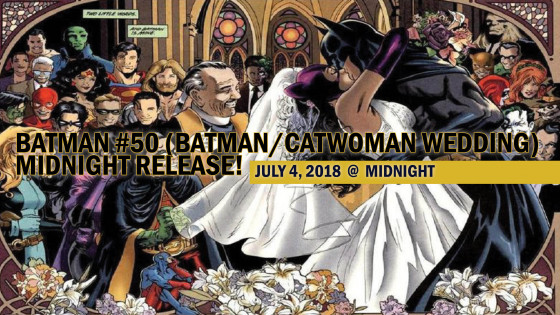 Line Up Early on Tuesday Night!
We Close at 8PM and Re-open at Midnight Wednesday AM!
BATMAN #50 (Batman / Catwoman Wedding Issue) Midnight Release!
Join Us Tuesday Night into Wednesday AM as we Celebrate the Release of BATMAN #50 & Captain America #1 alongside Cosmic Ghost Rider #1 and many other titles too...
MIDNIGHT 7/4 CC Parkville Only!
That's Right, Collectors Corner Parkville - HQ Location Only will be celebrating the Release of BATMAN #50 at Midnight on Tuesday/Wednesday 12 Midnight - 2AM.
ALL NEW Comics & Subcription Boxes will be Availble for Sale at Midnight, get them before we Re-Open on Wednesday.
First Chance to Own ALL 3 BATMAN #50 Comic Book Covers, we'll have them ALL!
Regular Cover, Arthur Adams & Jim Lee Covers Available.
Sales -
25% Off ALL Bagged & Boarded Back Issues Dated Within 30 Days.
*75% Off ALL Bagged & Boarded Back Issues Not Dated Within 30 Days.
*75% Off Bagged & Boarded Variant Covers Priced $11.99 or Higher with Variant Cover Sticker Excluding Variant Covers Dated Within 30 Days.
*30% Off All Batman & Batman Family Graphic Novels and Single Issues, Back Issues not Dated within 30 Days.
ALL $1 Comics only 50 Cents EA or 3/$1.
+ Additional Savings Below -
$2 Back Issues On Sale for
$1 Each 15/$10
Fill A Long Box for $75 or Fill 3 Long Boxes for $200.
*Excludes Subscription Box, Subscribed Titles and Special Orders, Pre-orders, Items on Hold, Candy, Snacks & Refreshments, All Sealed Trading Card Game Products - Magic the Gathering, YuGiOh, Pokemon, etc, All Collecting Supplies & Accessories for Comics and Gaming, Dice, Playmats, Maps, Sealed Blind Box, Blind Bag Figures, RPG Miniatures - D&D Miniatures, Pathfinder Miniatures, and Reaper Bones Miniatures, Cards Against Humanity, Exploding Kittens, Pinback Buttons, Keychains, Lanyards, Stickers, Gundam Models, Posters & ALL Clearance Items PLUS any Back Issues, New & Vintage/Used Merchandise or Restocked Items Dated on Price Sticker Within 30 days of Arrival in Store.


---