5 Comics You Should Be Reading For Halloween!
---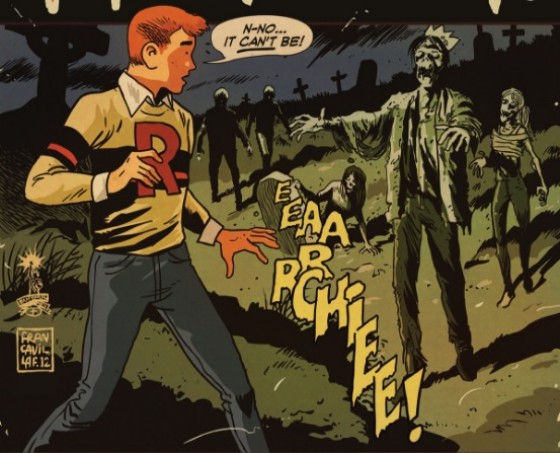 It's October again and you know what that means... Halloween is fast approaching! Between making your costumes, watching scary movies, and decorating your houses, don't forget to read some comics to keep up the Halloween Spirit. Here are 5 comics you should be reading for Halloween this year!
Nailbiter
Written by Joshua Williamson with Art by Mike Henderson
Why exactly has the town of Buckaroo, Oregon been the birthplace of so many of the most notorious serial killers in American history? The question runs deeper as a government agent must team up with the Buckaroo resident and most recent notorious serial killer The Nailbiter! What seems like a play on The Silence of the Lambs is at its core a sly satire on that and the romanticism America has on the macabre inner workings of the criminally deranged. The book is filled with some shocking moments and tells one heck a story that is part noir, part thriller, part horror, and all terrific.
Harrow County

Written by Cullen Bunn with Art by Tyler Crook
This beautifully drawn and expertly told story centers around a young girl named Emmy who has grown up in a small town with a secret; years before the townsfolk killed a witch. A witch who swore to come back and is responsible for the voices in Emmy's head. Probably my favorite book of the last year, Harrow County delivers a spooky coming-of-age tale filled to the brim with startling imagery and creepy nuance set in the gothic South. It's gruesome, chilling, and has a surprising amount of heart that should turn readers into instant fans.
The Haunted Mansion

Written by Joshua Williamson with Art by Jorge Coehlo
A haunted mansion sits atop a hill and is only talked about in hushed whispers. For young Danny, it represents an unfulfilled promise from his adventurer grandfather who promised a trip as soon as he returned from his latest assignment; one he unfortunately would not return from. When Danny discovers that his grandfather's spirit is trapped in the notorious Haunted Mansion, he must muster his courage and venture within to save his grandfather's spirit and save himself. Fans of the classic DisneyParks attraction will find a lot to love in this energetic and fun-filled book for young and old alike. The Disney Kingdoms series of books continues their great work with this latest installment that mixes spooky elements, adventure, and some real touching moments. It's a book that leaves you satisfied but always ready to revisit.
Written by Robert Kirkman with Art by Paul Azaceta
From the creator of The Walking Dead, Robert Kirkman, comes a new horror series dealing with demonic possession! It's a ground level and quietly terrifying series that introduces some very dark themes and characters that herald a ground level book channeling some of the greatest fears of humanity. The book is playing the long game but despite its slow burn, it continually raises the stakes on just what the evil in the book has in store for the readers.
Written by Tim Seeley with Art by Various Artists
At the end of most horror films, a lone woman tends to be the survivor. Cassie Hack however is not only the survivor but is also the hunter as she tracks and destroys things out of your worst nightmares. Smartly written and chock full of great cinematic references, Hack/Slash is the horror comic for horror film aficionados. While a variety of artists have worked on the book, each infuses a different style, not unlike when a new director takes over a franchise series of films. Bloody, brutal, and with a good deal of humor, Hack/Slash is one of the most self aware and fun horror books out there.
What are some your favorite comics to read for Halloween? Let us know and be sure to have scary but safe holiday!
---